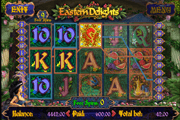 Eastern Delights Online Slot: Series of Drop Symbol Wins Increase Free-Spins Rewards
Eastern Delights by Playson offers 21 fixed-paylines in which rich and colourful illustrations of Middle Eastern pleasantries spin and land as winning combinations. The game runs on a symbol dropping mechanism that replaces an entire15-tile set of reel elements on each turn. When images of Exotic Food, Peacock, Fruits, Wine, and the conventional A, K, Q, J, and 10 symbols are taken away, the screen reveals briefly a serene Water Fountain scene.
Now if the set of symbols produce payline wins, only the winning symbols disappear. Elements coming from above drop into gaps created by the vanishing images, therefore, creating a fresh set of groupings. The Symbol Drop Feature is actually a respin that could go on continuously, for as long as the new arrangements created by the Dropped Symbols, result to new winning combinations. Actually, the Symbol Drop Feature offers more than just a chance to win additional rewards from a single paid spin.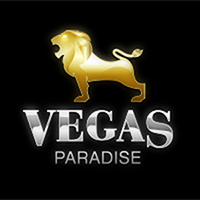 Overall Rating
PLAY NOW
Vegas Paradise
Welcome Bonus of $€£ 200 for all New Casino Players
Hottest Casino in the United Kingdom
Huge collection of online slots and table Games
Extremely High Payout Percentage
Monthly Promotions and Free Play
Eastern Delights Online Slot: Drop Symbol Wins and Collectible Free-Spins
A series of win occurrences spawned by the Symbol Drop Feature also awards a Free-Spin, starting from the first Drop Symbol Win. A Free-Spins counter located at the upper left of the slot screen keeps track of the bonus spins gained and collected. Every succeeding win, but up to a maximum of three bonus spins in every series, will increase the number of Collectible Free-Spins amassed.
At the end of each series, any number indicated in the counter will be carried over to the next set of Drop Symbol Wins. The Free-Spins collection therefore will continue to grow with every new series of Drop Symbol Wins occurring during play. Eastern Delights Game Info states that players can collect up to a maximum of 50 Free-Spins.
The instant a spin outcome produces the Scatter Symbol combination activating the free games, the total number of Free-Spins collected will then be added to the Eastern Delights Bonus Round. The game though locks in the Total Bet staked on the spin that produced the first Collectible Free-Spin. That way, a fixed value of the bet staked per line will be used to appraise the Bonus Game wins once the free round is underway.
Easter Delights Online Slot: Free-Spin Bonus Round
A round of free games activates when three (3) Sultan's Daughter icons appear as outcomes of a single spin. A Bonus Round consists of four (4) guaranteed Free-Spins plus the sum of all Collectible Free-Spins as indicated in the Counter.
During the bonus round, Eastern Delights players can still extend the round beyond the initial set of free-spins played. The Symbol Drop Feature will still take effect, therefore permitting players to collect more Free-Spins before the initial round ends. The great news is that the Free Round has a Crash Symbol Feature that could potentially start a series of Drop Symbol Wins.
The Crash Symbol is a unique element that comes in the form of the iconic Magic Lamp, which emerges in any Reel 5 position. In the event the Magic Lamp appears as outcome of a bonus spin, all images aligned horizontally to that particular symbol will crash and disappear. The occurrence furnishes an entire row of open spaces into which new symbols drop and possibly create additional winning payline combinations.
Eastern Delights Online Slot: Wild Symbol
The Wild Symbol of this game is represented by a straightforward, but ornately presented ? Sign. When identical symbols align with the ? Wild in the same payline, a winning combination can either be completed or expanded. The ? Wild-completed wins can increase players' chances of triggering the Drop Symbol Feature to gain Collectible Free-Spins.
Eastern Delights : Series of Drop Symbol Wins May Spawn up to 50 Collectible Free-Spins
Eastern Delights is a Playson online slot running on a game engine that takes away winning symbols to create new arrangements, and possibly additional winning combinations for a single spin. As symbols drop into open spaces created by the disappearing icons, a series of bet-free wins could occur. The series not only increases rewards gained from a single spin but also enables players to supplement the regular round of Free Games with up to 50 additional free-spins.