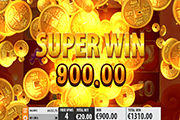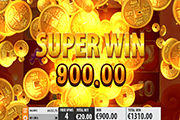 Eastern Emeralds Online Slot – Amazing Wins When Wild Multiplier Values Multiply
Eastern Emeralds online slot is a Quickspin content embellished with Chinese good luck charms. Golden figurines portraying a Dragon, a Turtle, a Fish and Coins occur on reels as high paying icons. Along with the A, K, Q and J Symbols, alike images may land as matched contents in any of 20 paying lines. Winning combos that include one or more Wild Multipliers command greater returns. After all, Wilds may land with a 2x, 3x, 4x or 5x value that multiply each other, when occurring as components of a payline win.
Luck is definitely an important factor, especially when a player gets to play any of four (4) Free-Spins Modes. Each Mode delivers a certain number of free-spins, with Multiplier Values that multiply up to x1680, x840, x360 or x120x. If luck is on a player's side, he or she can strike a multi-Wild payline win, which will increase winnings by up to the maximum value awarded by all Multiplier Wilds.


The Golden Dragon poses as highest paying icon, A winning convergence of 3, 4 or 5 Dragon Symbols, correspondingly garners a cash reward equal to 25x, 60x or 150x the amount staked as Line Bet.
Eastern Emeralds Online Slot: Wild Symbols
Five (5) types of Wild Symbols may emerge as outcomes of a base game spin. One is a plain Wild emblem that emerges only in Reel 1 in both base and bonus grids.
The four (4) other types are Multiplier Wilds of x5, x4, x3 or x2. During bonus plays, Multiplier Wild may land on any reel.
In the choices offered as Free-Spins Round, Multiplier Wilds come with higher values: x6, x7 and x8; albeit applicable in a Bonus Mode with fewer free-spins.
Eastern Emerald Online Slot: Destiny Bonus Round
It takes three (3) Phoenix Bonus Symbols to activate the Destiny Free-Spins Feature. The Phoenix icon though emerges only in Reels 2, 3 and 4. Landing three (3) of the icon in any spot across the three (3) designated reels, activate the Destiny Bonus Game.
Qualifying players will then select one of four (4) Free-Spins Modes to launch as Destiny Bonus Round.
Choice 1 comprises six (6) Free-Spins with Wilds that can multiply wins by x5, x6, x7 and/or x8. The x5, x6, x7, and x8 Wild Multipliers correspondingly occur only in Reels 2, 3, 4 and 5 in that particular order of exclusivity.
Here, a win outcome that includes all Multiplier Wilds as components, draws a payout that will increase by as much as x1,680 (x5.x6.x7.x8 = x1,680).
Choice 2 offers nine (9) Free-Spins with Multiplier Wilds of x4, x5, x6 and x7. In the same way, those special Wild Symbols are exclusive to a specific reel; Reel 2, 3, 4 and 5 in the same order.
In this Destiny Bonus Mode, a payline win completed by all four Multiplier Values, garners payouts that will increase by as much as x840 (x4.x5.x6.x7 = x840).
Choice 3 rolls out as many as twelve (12) Free-Spins but with a lower range of Wild Multiplier Values: x3, x4, x5 and x6. Similar to other Destiny Modes, each Wild Multiplier is exclusive to a single reel: Reels 2, 3, 4 and 5, respectively.
When all those four (4) Multiplier Wilds participate in completing a single payline win, the resulting payout will increase by x360 (x3.x4.x5.x6 = x380).
Choice 4 activates up to fifteen (15) Free-Spins but with the lowest range of Wild Multiplier Values: x2, x3, x4 and x5. Each of which, also emerges in a specific reel. i.e. Reels 2, 3, 4 and 5, respectively.
Nonetheless, payline wins comprising all four (4) Wild Multipliers, will earn as much as 120x the value of the related payout; (x2.x3.x4.x5 = x120).