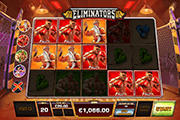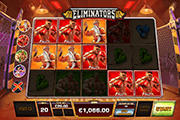 Eliminators Online Slot: Elimination Feature on Collapsing Reels Can Lead to Big Wins!
Eliminators online slot by Playtech presents an action-packed, 15-payline betting game. Five (5) formidable cage fighters dominate the scene as top- paying icons. Any Fighter Symbol that completes a payline win triggers the Elimination Feature. The latter works in conjunction with the Collapsing Reels system, which could produce a series of wins. The outcomes have greater impact if a series of Collapsing Reel-Wins eliminates all Fighter Symbols. Such an event awards a special Champion Bonus.
Aim to land on three (3) or more Championship Belts, as the combination will advance the game to the Free-Spins stage. Any of two (2) free-round options elevates the Elimination Feature and Collapsing Reels to a more rewarding level. The Red Game Bonus Round for one, comes with a Collapsing Win Multiplier. The Blue Game, on the other hand, comes with a guarantee of delivering frequent wins. Any choice is a boon, since players are bound to collect bet-free wins via both options.
A Wild Symbol comes around and takes position in any reel. During those occasions, the Wild boosts chances of striking any type of payline win. A Wild can represent Master Chan, Typhoon Terry, Tank, Violet or Joe the Hurricane, as well as the low-win Gloves . The bearded martial arts expert, Master Chan, has the highest pay-range. Three, four or five of his icon, when organised appropriately in any payline, garner 20, 200 or 2500 coin-wins, respectively.

Eliminators Online Slot: Collapsing Reels and Collapsing Wins
The Collapsing Reels system sets off every time a win event takes place. Winning Symbols disappear; creating open spaces into which symbols from above drop as new elements to match. If the new set-up results to additional paying combos, winning symbols will again disappear and make room for the dropping icons. The collapsing process may carry on continually, but only if the outcome produces supplementary wins.
The system will then compound all payouts garnered as Collapsing Reel-Wins; awarding them as supplementary winnings of the paid spin that set off the chain of win-events.
Eliminators Online Slot: Elimination Feature
Any Fighter Symbol that organises a one-of-a-kind combination in appropriate positions, triggers the Elimination Feature. Naturally, the Fighter winning combo will also disappear and activate the Collapsing Reels System. However, once a Fighter Symbol disappears, it will no longer emerge as outcomes of the current collapsing set-up.
In the event a chain of Collapsing Reel-Wins result to the elimination of all five (5) Fighter Symbols, a Champion Bonus will be awarded. If luck is on a player's side, he or she may eliminate more than one(1) Fighter Symbol via a single Collapsing Reel-Win. Moreover, collapsing actions continue for as long as each outcome produces one or more wins.
The Champion Bonus is a random bonus prize coming from a set of rewards comprising 2x, 4x, 6x, 16x and 40x the Bet Value. Qualifying players select a Mystery Fighter Symbol from out of five (5) images presented. The cash prize held by the chosen Fighter will then be the Champion Bonus.
Eliminators Online Slot: Free Rounds
The Championship Belt is a Scatter image. It can set off a Free Round by spreading across the grid in 3s, 4s or 5s simultaneously. The number of bet-free plays awarded corresponds to the type of Free Games selected: The Red Game or The Blue Game.
The Red Game – This bonus round awards 12, 25 or 50 Free-Spins on a set of 3, 4 or 5 Championship Belts that activated the bonus round. Here, a Win Multiplier increases all winnings garnered as Collapsing Reel-Wins. The Multiplier may progress from a 2x Value, up to a maximum of 10x. A continues progression carries on if a succession of Collapsing Reel-Wins transpire uninterruptedly.
If during a Red Game Round 2, 3, 4 or 5 Championship Belts re-appear in a single outcome, the bonus round extends with a set of 3, 12, 25 or 50 additional free spins.
The Blue Game bestows 10, 21 or 40 Free-Spins; corresponding to the number of Championship Belts that set off the bonus game. If during the Blue Game, 2 or more Championship Belts emerge via a single instance, 3, 10, 21 or 40 additional free spins will extend the round.
Although this feature does not have a Multiplier to offer as extra bonus feature, it gives a guarantee that payline wins will occur frequently. This denotes that Blue Game players will have more opportunities for setting off the Collapsing Reels system and the Elimination Feature.