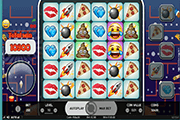 Emoji Planet Video Slot: Fill Emoji Sticker-Meters to Trigger Special Emoji Bonus Features
Emoji Planet video slot is a no-payline icon-matching game by NetEnt. Identical Emoji Stickers need only to combine in a cluster of five (5) or more to garner coin rewards. The winning symbols will disappear,then replaced with new Emoji icons coming from above.
If the disappearing action results to more Cluster Wins, the cycle continues until the winning events stop. A Coin-Win Counter on the left side of the screen keeps track of all rewards gained from the series of wins. The total coin credits collected will then be awarded as winnings of a single triggering spin.
Emoji Planet Cluster Wins
Now the best part about landing on Cluster Wins is when the winning symbol has an Emoji Bonus Feature. Cluster Wins constituting Bomb, Pizza, Kiss Mark, Rocket, or Heart Symbols work toward filling up a corresponding Emoji Meter. The number of identical images comprising a win, determines the level by which an Emoji Meter is charged. When any of the Meters has been fully charged, the Emoji Bonus feature activates.
Of the eight (8) Emoji Planet images, the Face with Tears of Joy, has the highest payout values. Tears of Joy Cluster Wins comprising five (5) up to 30 images bring 40 coin wins at the least, and up to 10,000 at the most. The Alien and the Pile of Poo also award significant values, awarding 30/20 coins at the least, and up to as many as 5,000/4,500, respectively.
The Rocket, Kiss Mark, Pizza, Bomb and Two-Hearts icons award medium pays, ranging from 5 to 2000 coin credits. Yet those five (5) medium-win symbols are worth more than their Paytable Values, since they are configured with an Emoji Bonus Feature.
Emoji Planet Video Slot: Emoji Bonus Features
Pay attention to the five (5) Emoji Stickers on the right side of the Emoji Planet screen. Each sticker lights up with every disappearing symbol of a Cluster Win. It takes twelve (12) Bomb, Pizza, Kiss Mark, Rocket or Two Hearts winning icons to fully light up the corresponding Sticker-Meter.
Once a Meter is fully charged, the bonus feature activates. To keep track of the number of times an Emoji Meter was filled during a string of win-events, a numeral appears next to the Emoji Bonus Symbol. Yet if a series of wins ends, all partially charged Meters resets to its original unlit state.
On the other hand, when two (2) or more Emoji Sticker-Meters have been filled during a winning streak, the Emoji Features will roll out by the number of times a Sticker-Meter was fully charged, and in the following order::
The Bomb Feature will cause the disappearance of eight (8) symbols. If the action results to a win that will remove more Emoji icons from the screen, a bonus reward on every shattered symbol will be awarded. A random coin credit between 5 to 100 valued at the current Bet Level will be awarded on every destroyed Emoji image. This feature though will not charge up any of the Sticker Meters.
The Pizza Feature superimposes an arbitrarily selected Colossal 3×3 Symbol on the Emoji Planet game board.
The Kiss Mark Feature adds three (3) Sticky Wilds in random positions across the reels. Each Sticky Wild has three (3) lives, which diminish with every substitution action performed during the Kiss Mark feature.
The Rocket Feature brings a full-reel Stack of Wilds on any reel. and comes with a guarantee that this will result to at least one (1) Cluster Win.
The Two Hearts Feature multiplies the current Total Win by the number of times the Meter for this feature was filled plus an additional 1x Multiplier. Supposing the Two Hearts Meter was filled once, the additional x1 Multiplier raises the Total Win Multiplier to 2x.
Emoji Planet : Cool Emoji Features Modify Reels; Likely Resulting to Awesome Bonus Wins!
Emoji Planet brings a different NetEnt slot-playing experience in which idenitcal Emojis need only to land as a cluster of 5 or more. All medium-win icons possess a special ability to modify the reels, which can be activated by filling up a corresponding Meter during a series of wins. Emoji Reel Modifiers include random 8-Symbol Eliminations, a 3x3 Colossal Symbol Overlay, 3 Sticky Wilds, a full-reel Stacked Wilds, and a Total Win Multiplier.