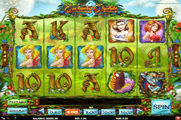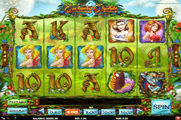 The Enchanted Crystals Video Slots game is a larger video slot options that does have five reels. In fact, there is a total of 243 different ways to win some sort of a payback, which is nice for someone who wants to be able to increase their winning potential. On to of this, there are no selectable play lines.
The game does this and keeps it the same throughout, which makes it easier for those who are just starting out on slot machines and are not sure how to go about playing the large play line games. Beyond this sort of feature though, knowing what bonus features are involved with the Enchanted Crystals Video Slots game is a good idea.
For starters, there is the wild resin icons. The blue crystal icon appears on the second, third and fourth reels. Should the wild icon appear on the screen, it locks into place and gives the player the chance to resin. Should another blue crystal appear on the screen another wild respin is granted. The blue crystal also can be dubbed in for any other icon, which is what helps increase the potential amount of winnings with these kinds of icons.
There are general free spin icons with the Enchanted Crystals Video Slots game. Should three or more butterfly icons appear on the game board it is going to award the player 10 free spins, which start automatically. Now, during the free spins there are butterflies that flutter about the screen. During every free spin the butterflies land on a random icon which turns it into a wild symbol, which increases the chances of winning.
There is a Goblin King Bonus, which is going to appear on the first, third and fifth reel. Should he appear at all it does launch a small mini game, which requires the player to guide a fairy through different doors in order to locate a crystal. This awards a large payoff.