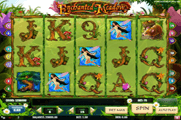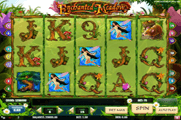 Enchanted Meadow slot game comes with five reels and 15 paylines. It is a game filled with fairies and fancy. You will be taken into this enchanted meadow where all the leaves of grass and the ground are controlled by fairies and their magical powers. You will spin the reels as you would on any other game, but you are waiting for the fairies to take over and use their magic to make your game play that much more fun.
The game is filled with many bonuses that are all based around the world of the fairies. The fairy queen many appear at any time, and getting two or more of her symbols will allow you to scatter the pieces for a better chance to win.

You may also get the three reel tree or the medallion halves that will come together for a special prize. When you are thrust into the bonus round, you will have a chance to earn many more bonus spins so that you can keep the game going. Without these spins, you will run out before your time is finished.
When you sit down to play Enchanted Meadow, you get the feeling that you are in the middle of a movie about fairies. The graphics and presentation make the game feel like a movie, and they allow you to get immersed in the world of these fairies. When you spin the reels for the first time, you need to start looking for patterns so that you can get the medallion halves, the fairy queen or the fairy tree to give you more spins, more points and more cash winnings.