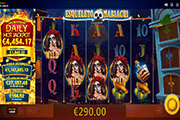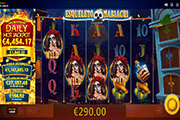 Esqueleto Mariachi Online Slot: 3 Skeleton Musicians Power-Up Base and Free-Spins!
Esqueleto Mariachi online slot by Red Tiger furnishes 40 paylines via a 4×5 grid, apparently developed as a Dia Delos Muertos offering. Three (3) Mexican Skeleton Musicians take center stage as bringers of win-boosting elements on any spin. One, or even all three Mariachis may come out of their compartment, in order to enhance or modify the reels.
Several Wilds may be added; or reels may shake and subsequently nudge until identical symbols organise a winning arrangement. Another feature may even result to additional winnings when the sound blows away images. All three Mariachi acts transpire arbitrarily during paid spins; but will occur for sure during Free Games.
A Mexican Senorita, still showing signs of beauty despite her decomposed state, acts as Wild Symbol. The musical performances of the three (3) Esqueleto Matiachi personas usually summon the Senorita's Wild image to ensure a winning outcome. Another significant element that transpires as spin-outcome is the Jackpot Symbol. Although the Jackpot Game may trigger at random, landing a set of 3 or more Jackpot icons via a single spin, immediately sets off the Jackpot segment.


Esqueleto Mariachi Online Slot: Wild Symbol
The Senorita Wild is present in all reels, allowing her to perform substitution actions in any paying line. Moreover, since more than one Wild image may come into view, the Mexican Senorita can very well form its own winning areglo (arrangement).
Actually, the Senorita Wild has the highest Paytable Values. A group of 3, 4 or 5 Wilds lined up consecutively in a payline from the leftmost onward, awards 100, 240, or 500 in coin credits. Although regarded as a special symbol, payouts of winning Wild combinations are also multiplied by the current Line Bet.
Esqueleto Mariachi Online Slot: Mariachi Features
The Skeleton Musicians take random turns in coming out of their final resting place. Yet on any spin, it is possible for more than one Esqueleto Mariachi to appear and deliver a win-boosting performance.
El Guitarista plays his guitar with such intensity, creating sound waves that can summon several Senorita Wilds to appear on screen. The Wild additions will always bring a rewarding outcome.
El Trompetista – As the Trumpeter blows on his instrument, the blare will be strong enough to blast some symbols out of the reels. New combinations form as icons from above will land on reel positions left vacant by the blasted elements.
El Maraqueno – The Mariachi shakes his maracas rather vigorously, causing reels to nudge. The Maracas player will continue to shake the reels until alike symbols create at least one winning combination.
Esqueleto Mariachi Online Slot: Bonus Round
The Bonus Round triggers when three or more Mariachi Free Spins land anywhere across the play area. This feature randomly determines the number of free games awarded as bonus; depending on the outcome of a mini-reel.
All three Mariachi Features are certain to occur during the bonus round. This time though, the game sets a predetermined number of times by which an Esqueleto Mariachi delivers a win-boosting musical act. The trio therefore will be present during the bonus bout, each awaiting a turn in delivering win-outcomes accordingly. In fact, a single bonus spin may get a boost from all three (3) Mariachi Skeletons.