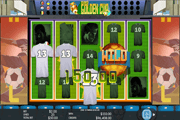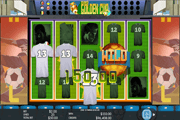 Euro Golden Cup Online Slot – Spin and Collect Bonus Wins via Tri-Level Bonus Games
Euro Golden Cup online slot is Genesis Gaming's football-themed real-money online casino game. Configured with 25 non-fixed paylines, players spin to land on three or more matching images of football team players and/or shirts, in order to win bets staked on all or on selected number of paylines.
As players spin and win on matched-symbol payline groupings, they must also aim to land on Flag symbols in order to collect and amass trophies that can unlock the different levels of the Euro Golden Cup Games.


Euro Golden Cup – Trophy Collection Feature
One (1) Flag symbol equates to collecting one (1) Trophy. The Flag Symbol appears only in Reels 1 and 5.
A single trophy will unlock the first Game Level, while Game Level 2 requires collecting 15 Flags in order to have 15 Trophies in all. Finally, Game Level 3 can be activated by collecting 30 Flags or 30 Trophies total. A Flag/Trophy Collection Monitor at the top of the screen keeps track of the Flag icons collected while spinning the base game reels.
Euro Golden Cup Tri-Level Bonus Games
As reels run on Genesis Gaming's Graduated Features Game Engine, the choices of bonus games expand from one up to three selections; the features related to each choice will also progress at every level:
Play Maker Free-Spins is a free-spins feature that gets unlocked in Game Level 1. Landing on three or more Bonus Scatter Symbols activates this bonus game. Ten 10 bet-free spins will then be awarded and played in a set of bonus reels enhanced with Stacked Sliding Wilds.
If a player advances to Game Level 2 and subsequently to Game Level 3, the Play Maker Free-Spins Game becomes one of two or three available choices. Level 2 or Level 3 players opting to play this free round will receive 12 or 15 bet-free spins correspondingly. The free games will likewise be played on reels enhanced with Stacked Sliding Wilds.
The Striker Bonus Game is unlocked at Game Level 2. Euro Golden Cup players choosing this segment will have 10 bet-free spins played with the Striker Target Feature. Players though will need to land on three or more Bonus Symbols to activate and choose this as bonus game.
At the onset of the free games, a reel symbol is randomly selected as Striker Target. Once that particular image appears as outcome of a bonus spin, it will transform into another symbol to increase the likelihood of creating winning matched-symbol groupings in any active paylines.
If a Euro Golden Cup player progresses to Level 3, the Striker Game will also be available as bonus game choice. Ten bet-free spins will be awarded; but the Striker Target Feature will work toward adding Extra Wilds. The Striker Target Symbol randomly selected at the beginning of the free round will become Wild Symbols once they emerge as outcomes of the triggering free spin.
Penalty Shootout This Euro Golden Cup game mode is available only in Game Level 3. Again, Level 3 players must land on three Bonus Game symbols to access this game mode.
Penalty Shootout players will have five (5) attempts to score a goal and in so doing, try to beat an imaginary opponent. The five goal attempts will be carried out by selecting a spot on which the ball could land successfully. Scoring a goal will earn players coin-wins ranging from 2x up to 5x the Total Bet staked on the spin that triggered the bonus round. Missing a shot will earn them coin wins at 1x the Total Bet.
Moreover, if at the end of the Penalty Shootout bonus-game, a player garners more score points than the opposing player does, he or she will receive fivefold (5x) of all bonus wins. On the other hand, if a Euro Golden Cup player ends up with fewer score points, no win-multiplier will be awarded. In the event that the scores are tied, the player will receive twice (2x) the value of all Penalty Shootout bonus wins. The opponent's score however is determined at random.