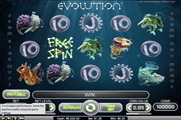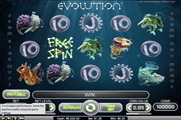 Evolution Free Slot
There are many theories regarding our existence and one of them, is the theory of evolution. It says that we have evolved from animals. Some agree and some don't, Net Entertainment is not a science professor, all they want is to provide you with fun, this is why they approached evolution from another point of view as they decided to add their own twist on the theory by building a game that is about the evolution of other animals that turn into exotic creatures.
This is why as soon as players open the video slot, they will quickly notice the weird creatures that will spin on its reels. These creatures that come in the form of symbols include a swimming rat, a snail with legs, a weird green creature and much more. There are also some creatures that represent the usual low paying card symbols. They come with the card symbol on top of them.
[/CBC]
Free Slot Payouts
Players will have the ability to check out the different payouts that these creatures and symbols can give by clicking on the view pays button. They will see that Net Ent has named all of the creatures that spin on the reels and players will see how much can each symbol give in rewards when they get matching symbols on the same line. The biggest line payout that can be earned is equal 500 coins and it is given by the Draconius Rex symbol, when players get 5 of them on the same payline. All bets are placed under the reels as players toggle through the betting options that the game has to offer.
The game has a wild symbol, which is the smoky wild icon that has the ability to replace any of the other icons that land anywhere on the first 4 reels of the game. This will help players form a winning combo in order to help players get rewarded. It will not replace other special symbols.
The other special symbol is the Free spins icon which will trigger the free spins round for the lucky players. They will get to claim 10, 15 and 20 free spins when players get 3, 4 or 5 free spins icons anywhere on the reels. Plus the free spins round, the scatter icons also give scattered rewards. They are multiplied by the wagers, it depends on how many scatters appear on the reels. Players can earn a multiplier of 2, 4, 20, and 100 whenever players get 2, 3 4 or 5 scatters anywhere on the reels.