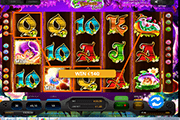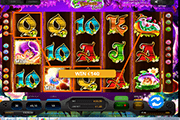 Fairytale Forest Online Slot: Enchanting Bonus Features Bring Amazing Wins!
Fairytale Forest by Oryx Gaming furnishes 20 paylines on which alike symbols align as winning combinations. Players earn coin credits when three or more organise in consecutive reels starting from the leftmost position of a paying line. Aside from regular symbol payouts, players earn bonuses via two (2) enchanting Bonus Features: The Mad Hats Bonus and the Magic Nuts Free-Spins.
The Mad Hats Bonus is a Pick Game. It gives players up to three (3) Extra Picks to use, if they are not satisfied with the initial outcome. The Magic Nuts Free-Spins Round on the other hand, awards a Multiplier and can extend by way of Magic Acorns.


During base and bonus rounds, aim to land winning combinations of the Wise Caterpillar. The icon is the highest paying regular-symbol. A matched combo comprising 2, 3, 4 or 5 Wise Caterpillars, correspondingly garners 5, 40, 100 or 400 coin credits .
Fairytale Forest Online Slot: Special Symbols
Look forward to spin-outcomes that include Magic Fairy, Lucky Leprechaun and Laughing Tree icons. The Fairy image is a Wild Symbol, while the Leprechaun and the Tree icons are Bonus Game Trigger-Symbols.
Magic Fairy Wilds may emerge in any reel, and may help complete a winning arrangement. A Fairy Wild though should be in the same payline in which a group of alike images are aligned. The rewards for such arrangements will then be based on the Paytable Values awarded by the principal winning symbol.
Should the Fairy Wild occur in numbers that form a paying combination of its own, coin credits of 20, 150, 700 or7,000, will be awarded accordingly.
Lucky Leprechaun Symbols activate the Mad Hats Bonus Game if three (3) or more align in three (3) adjacent positions of a paying line. The arrangement may start from any position for as long as a minimum of three (3) Leprechaun images occur in consecutive reels.
Laughing Tree Icons trigger the Magic Nuts Free-Spins when a scattering of three (3) or more is in view. However, landing four (4) or five (5) has greater impact, since such combos also award a 4x or 5x Bonus-Win Multiplier, respectively.
Fairytale Forest : Mad Hats Bonus Game
This bonus feature starts with a display of five (5) colourful Magic Hats. Participating Mad Hats players need only to select one (1) in order to reveal an instant Cash Prize. A player may choose to collect the value revealed, or forfeit the prize in exchange for another Magic Hat Pick.
However, the prizes revealed by subsequent Picks are not cumulative. Using the two (2) Extra Picks results to a forfeiture of the Cash Prize previously revealed.
Fairytale Forest : Magic Nuts Free-Spins
The number of Free-Spins awarded by this Bonus Feature depends on the results of yet another Pick Game. This time, players are allowed to keep the rewards revealed by Acorn icons presented as Pick Choices.
Numbers of Picks awarded are not fixed, as it depends on the number of Laughing Tree Symbols that activated the free round.
• Three (3) Laughing Tree Symbols entitle players to choose two (2) Acorns.
• Four (4) Laughing Trees beget three (3) Acorn Picks
• Five (5) Laughing Tree icons award up to four (4) Acorn Picks.
The greater the number of Acorn Picks claimed the better. Players will have increased chance of revealing Acorns with Additional Free-Spins or Additional Bonus-Win Multipliers.
During free rounds, Magic Acorns may appear repeatedly and bring Extra Free-Spins. Frequent Magic Acorn occurrences can infinitely extend a single bonus round.