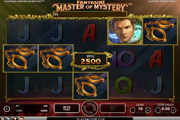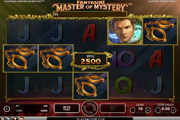 Fantasini Master of Mystery – Enjoy another NetEnt Online Slot Wizardry
Fantasini Master of Mystery online slot is another NetEnt online gambling wizardry that could grant up to 270,000 in coin rewards. Using the Linked Reels game mechanism, this 5-reel online slot connects two or more adjacent reels to produce identical sets of symbols that could likely find a match once the outcomes of a spin are revealed. The feature gives slot players great opportunities at landing on Big Wins and even Super Mega Wins as there are 243 possible ways to win.


Aside from the standard A, K, Q, J and 10 icons that pay minimally albeit frequently, the images that complete the set of reel icons are from Fantasini's magic show ensemble. They represent high paying reel icons, including Fantasini's female assistant. The latter pays as many as 1,000 coins for every 5-of-a-kind matched groupings in a given payway. The Chest and the Globe award as many as 500 and 400 coins respectively, while the Shackles and the Card both bestow 250 coins, also for combinations of five matching symbols.
The image of Fantasini Master of Mystery himself serves as the magical Wild Symbol that could pose as substitute for both the standard and high-paying icons. The Fantasini Wild Symbol though does not have the capability to form its own paying matched symbol combination.
This NetEnt online gambling entertainment has no free-spins round, instant-win bonus game, nor Scatter Pay to offer. Nonetheless, slot players have great chances of landing on completing top paying and/or multiple pay-way combinations, mainly with the help of the Linked Reels game attribute.
Fantasini Master of Mystery Linked Reels Feature
Every spin launched by a slot player initially produces in any of the five (5) reels, two connected columns with sets of identical symbols. A gold chain enclosure depicts the linking action of the Linked Reels mechanism. As Fantasini Master of Mystery slot players continue to spin the reels, the Linked Reels could expand and connect three, four or even up to five reels with same sets of symbols that would likely produce the much awaited Super Big Wins!
The number of reels enclosed by the gold chain is random, as the feature works independently for every spin. For any matched symbol groupings appearing in any given pay way, only the longest qualifying combination will garner an equivalent pay.
Fantasini Master of Mystery Betting Options
All 243 ways-to-win will be in play for a minimum of 25 coin credits. Fantasini Master of Mystery players have the option to increase the number of coins staked per spin by selecting a Bet Level. The Bet Level number multiplies the minimum 25 coins from 1 up to 10 times. When opting to play at Level 1, the number of coins is 25 (25 x 1), while the maximum number of coins available as bet per spin is 250 at Level 10 (25 x 10). The Bet Level selected is important as this serves as basis in determining the total coin rewards earned by a winning symbol.
The coin values available are 0.01, 0.02, 0.05, 0.10, 0.20 and 0.50. The chosen value is the basis for determining the Total Bet Value per Spin and the monetary value of a pay-way win. The least amount of bet that can be placed as wager on every spin is 0.25 (0.01 x 25 coins), while the highest bet per spin possible is 125.00 (0.50 x 250 coins).