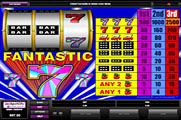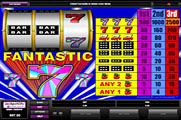 Fantastic 7's Slot Machine
Fantastic 7's is an outstanding game that is inspired by one of the most popular symbols that appeared on classic slot machine, the 7s. This is why the game is entitled Fantastic 7's and it is also why players will enjoy a classic fruit machine experience like the one they used to play back in the day at Las Vegas casinos or at bars and pubs. This game is a ton of fun, learn more about it below and try it for free today!

3 Reeled Slot Machine Experience
The symbols that appear on the reels of the fruit machine include some of the usual symbols including the traditional bar symbols, red sevens, cherries and lastly, the colorful fantastic 7's. These symbols will come spinning on the game's three reels and the one middle single payline that the game has. The symbols that will land on this payline are the ones that matter.
If players get three matching symbols of any of the symbols, they will get to earn a payout, the amount depends on their bet and the symbol that they have matched. Some symbols can pay players without having to appear in three's on the payline. For example, cherries can pay players when 1 or 2 symbols land on the reels. Also, whenever players get any three bar symbols and any seven symbols on the payline. They will also get paid, even if the 7s are of different colors.
The bets at this game can be placed at the control panel at the bottom, players will choose whether they wish to place 1, 2 or three coins as well as their value. This is why the paytable of the game that is located on the right side consists of 4 columns. One column for the combo and 3 columns showing players the different payouts according to how many coins that they have placed.
The biggest award that can be earned at this fruit machine is given by the Fantastic colorful 7s symbols as players who get 3 of these on the winning line of the game will be able to claim 500, 1500 and 3000 coins, depending on their chosen betting level. Since players can win great awards when placing the 3 coin bet, players are always advised especially at small fruit machines like this one, to always place the 3 coin bet so they can get a chance at claiming these payouts.