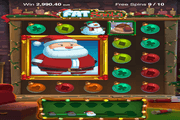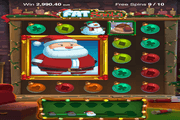 Fat Santa Video Slot: Big Wins Keep Coming as Santa Gets Bigger!
Fat Santa video slot is a Push Gaming 50-payline mobile game that is likely to bring big Christmas cheers. Base and bonus games are configured with win-boosting events delivered by way of Santa and Christmas Pie images. Both icons are Wild and Bonus Game trigger-symbols; having special characteristics that can positively influence the outcome of a spin.
During a random base spin, a Santa animation arrives to activate the "Sleigh Feature." Santa may decide to place Christmas Pie Wilds in random reel positions. The Pie Wilds here, will have greater significance. Aside from their inherent ability to represent any icon except the Santa Wild, they can turn other symbols into Wilds.
A base spin outcome that creates greater impact, is one that displays both Santa and Christmas Pie Wilds. Such an event unlocks the "Free Games Feature" that allows the triggering Santa Wild to grow. Hope for an abundance of Pie Wilds to appear thereafter, because Santa is set to consume all in order to grow bigger. The greater the number of Pies partaken by Santa, the faster the transformation into colossal sizes. Awesome even is that every time the Santa image enlarges, additional Free-Spins will be awarded.
Now if players feel it is taking them lots of time and wagers to activate a free round, they may want to consider Fat Santa's "Buy Feature" option. Pegged at a cost of 80x the current bet value, they can gain instant entry to a round of free games. The stake may be high, but the "Buy Feature" guarantees one (1) Fat Santa plus one (1) up to four (4) Christmas Pies as starter elements.

Fat Santa Video Slot: Wild Symbols
Santa and Christmas Pie icons are both wild cards. Of those 2, only Santa Wilds can organise as winning elements of a paying line. Pie Wilds on the other hand, can represent only regular symbols. It cannot substitute for Santa Wilds if seeking to complete a winning Wild Santa combo.
Three, four or five Santa images combining as a one-a-kind grouping in any paying line, awards a huge payout; starting at 40x, 200x up to 1,000x the Coin Value staked as Line Bet.
Christmas Pie Wilds, albeit purely a substituting element, have some win-boosting tricks of their own. The attribute though takes place if a Christmas Pie Wild came around by way of "Santa's Sleigh Feature."
Fat Santa Video Slot: Santa's Sleigh Feature
Once in awhile, a sleigh-riding Santa animation swoops down while a random spin is ongoing. If Santa's Sleigh flies over the grid, he will drop some Christmas Pie Wilds to enhance the outcome of the related spin. Moreover, every icon directly positioned underneath the Wild Pie additions, will likewise turn into extra Christmas Pie icons.
Fat Santa Video Slot: Free-Spins Feature
If after a standard paid spin a Santa Wild and a Christmas Wild are both in view, the pair of Wilds instantly triggers the Free-Spins Feature. Initially, five (5) bet-free spins roll as free games. Additional free turns can be collected every time Santa consumes the number of Pie icons needed to grow the Santa image.
Both feature-triggering elements stay on the reels, although Santa will move toward the Pie icon to gobble it up. Once Santa consumed four (4) Christmas Wilds, the image enlarges as a 2×2 icon; whilst covering symbols adjacent to the partaken Christmas Pie. The bonus round will then extend with an additional set of 3 Extra Free-Spins.
The Santa Wild here has potential to grow into colossal sizes, although the number of Pie icons that Santa needs to consume also increases. An enlarged Santa icon stays on while a bonus bout is ongoing; heightening chances of bringing in big wins after each spin. When the bonus round runs out of free-spins, the play returns to regular paid spin sessions.