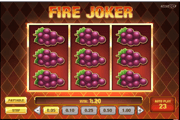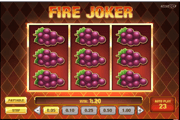 Fire Joker Online Slot – Reels Filled with Identical Symbol Earn Payouts in Fold!
Fire Joker is a Play'nGo classic-style online slot with 3 rows and 3 reels of traditional icons. Players need only to land on three (3)-of-a-kind symbols lined horizontally in any row, or diagonally from the left corner down to the right and/or vice versa.
An outstanding win may happen if the Lucky Number 7, Gold Star, BAR, X Symbol, or any of the assortments of fruit totems completely fill up all 3 reels as one-of-a-kind full screen win. Such an event will trigger the activation of the Multiplier Wheel.


Fire Joker Online Slot: Wild Symbol
First off, the Fire Joker icon is the Wild Symbol of the game. Its emergence in any position is already significant. Two identical symbols aligned to a Wild in a payline can be completed since the Joker Wild can pose as suitable alternative icon to complete a 3-of-a-kind payline-combination.
Secondly, multiple Joker Wilds may appear as outcomes of a spin and form its own set of winning payline groupings. When it does, a Joker Wild payline win earns players as many as 80 coin credits per payline.
In the event that the Joker Wild fills up the entire slot screen with its symbol, and lands on a 10x win-multiplier via the Wheel Multiplier, the resulting win would be as high as 800x (80 coins x 10x) the bet wagered on a payline.
Fire Joker Online Slot: Multiplier Wheel Feature
This game element is activated only if the reels are filled with one kind of symbols. Containing win-multipliers ranging from 2x up to 10x, the Wheel determines the factor that will apply to the full-grid win completed by the winning symbol.
The Joker Wild though is not the only game element that can help players land same-symbol payline wins. Play'nGo incorporated a Respin of Fire feature that gives Fire Joker players a second chance to land on a match that will complete a 3-symbol payline win.
Fire Joker Online Slot: Respin of Fire Feature
If after a spin, two of the three reels returned with stacks of identical symbols but failed to complete at least one payline win, the Respin of Fire feature will initiate a respin of the differing reel. The identical Stacked Symbols in the two reels will remain locked in place, whilst awaiting the outcome of the reel respin.
A stack of Joker Wild Symbols will be considered as identical to whichever symbol emerges as stacked images in another reel.
If two kinds of stacked identical symbols appeared in all three reels, but did not result to a win, the Respin of Fire feature will lock in place the symbols that will bring higher rewards. The feature will then continue by re-spinning the reel holding the lesser-paying stacked icons .
Fire Joker Online Slot – Betting Options
The betting options for each spin cover all 5 paylines. The bet-values presented are amounts that may be wagered as bet per spin, starting from 0.05 up to 100.00.
When choosing an option, consider the value of the bet staked per payline, as the amount staked per line poses as the value multiplier of the coin rewards. A minimum 0.05 bet is equivalent to a 0.01 (0.05/5 paylines) coin-win multiplier. On the other hand, a 100.00 Max Bet has a proportionately higher coin-win multiplier of 20.00 (100.00/5 paylines).
Regardless of the betting option selected, the bet amount staked does not influence the outcomes of each spin.