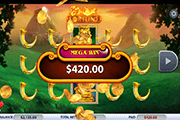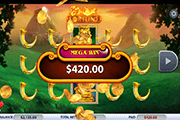 Fire N' Fortune Online Slot: Reel Copy Feature Can Make Mega-Win Wishes Come True!
Fire N' Fortune is a 2×2 Gaming 15-payline online slot deployed via Microgaming's Quickfire web and mobile gaming platforms. A 3×5 reel is filled with Grecian-inspired images that could land tremendous wins via the Reel Copy Feature. A full-reel stack of identical symbols may replicate the same set of stacked images in other reels. Since the triggering Stacked Symbols emerge in Reel 1, the duplicated stacked images will likely result to multiple winning combinations.


Fire N' Fortune Online Slot: Reel Copy Feature
The Reel Copy Feature occurs in both base and bonus games whenever a full-reel Stacked Symbols takes position in Reel 1. When activated by a base game spin, an animated Flaming Golden Phoenix flies out of the first reel, and lands on one (1) or two (2) randomly selected reels. The Golden Phoenix will then leave behind Stacked Symbols of the same kind, thereby increasing the number of identical icons displayed by the slot grid. Those that find compatible matches in the rest of the reels, whilst completing pay diagrams, garner the equivalent payouts awarded by the winning symbol.
During a round of free games, the Reel Copy Feature is more potent, as the Golden Phoenix may roost on up to 4 reels to bring as many Stacked Symbols as possible.
Another awesome facet of the Reel Copy Feature is that any Fire N' Fortune reel element may land as Stacked Symbols in the first reel. This denotes that the Reel Copy Feature is capable of bringing on multiple Stacked Wilds and Stacked Bonus Symbols that award more than just regular payline wins. .
Fire N' fortune Wild Symbol
The Flaming Golden Phoenix also takes form as Wild Symbol of the game. When images of this legendary bird land as a coordinated grouping of 3, 4, or 5 symbols along a paying line, a cash prize equivalent to 40x, 100x, or 800x the current Line Bet will be awarded. Since it is possible to land on more than one winning Wild combination, only the longest pay pattern completed in a payline garners an equivalent cash reward.
At the same time, any Wild Symbol that links to a group of identical images in the same payline can simultaneously complete a winning combo by way of substitution.
Fire N' fortune Bonus Game Symbol
An image of cache of Treasures represent the Bonus Game Symbol. Three, four, or five Treasure Bonus icons occurring as a payline win, not only earn cash rewards but also activate the Fire N' Fortune Free-Spins Round. The number of spins awarded depends on the number of Treasure Bonus symbols occurring as winning payline combo.
Winning Treasure Bonus Symbols, lined up as a 3, 4, or 5-symbol payline-win awards a cash prize amounting to 5x, 25x, or 50x the Line Bet. Only the longest Treasure Bonus combo per payline, garners a corresponding cash prize.
Fire N' Fortune Free-Spins Bonus Game
A straightforward Treasure-Symbol Win comprising 3, 4, or 5 of the icon, activates 5, 7. or 10 bet-free games.
Yet the Reel Copy Feature makes it possible for players to land on several Stacked Treasure Bonus Symbols via a single paid spin. Should such an event result to multiple Treasure-Symbol Payline Wins, the total number of Free-Spins gained awarded by all winning Treasure combos will be played. Now if the aggregate number of bonus spins won is 15 or more, three bonus game options will be available to Fire N' Fortune Bonus players.
Fire N' Fortune Bonus Game Options<
Regular Free-Spins is a bonus game mode that carries out free spins without a Win-Multiplier. A regular Free-Spins Round may comprise up to 105 bonus spins.
Super Free-Spins This type of Bonus Game reduces the number of Free-Spins Rewards to 1/3; awarding up to a maximum of 35 Free-Spins per round. Here, a x3 Multiplier applies on all Bonus-Wins gained during the free games. If the resulting 1/3 of the total Free-Spins won is not divisible by 3, the digit will be rounded off to the nearest whole number. In conjunction, a Mystery Bonus will award a random additional cash prize.
Mega Free-Spins – In this Bonus Mode, x5 Multiplier will apply to all Bonus Wins. However, only one-fifth (1/5) of the won Free-Spins will be in play, up to a maximum of 21 Bonus Spins. Again, if the resulting number is not a multiple of 5, it will be rounded to the nearest figure that is divisible by 5. Similarly, a random cash prize will be awarded as Mystery Bonus.