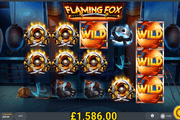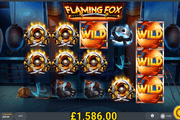 Flaming Fox Online Slot: Ninja Fox Improves Spin Outcomes with Flaming Reels and Locking Wilds!
Flaming Fox is a Red Tiger online slot configured with 10 paying lines in which symbols must align in order to gain payouts. This game awards pays on wins achieved both ways. Denoting that alignments of one-of-a-kind icons, may start either from the leftmost or rightmost column. The flexible icon-matching mechanics, combined with the Flaming Reels and Locking Wild Features, can improve outcomes beyond expectations!
The Ninja Fox randomly delivers the win-boosting elements during base and bonus games. The difference though is that when appearing via paid spins, the featured martial arts expert may, or may not lock Wild Symbols in place. Whereas in free rounds, aĺl Flaming Reels and/or Flaming Wilds lock in place until the end of a bonus bout. There is no telling how long a bonus round lasts, since the number of spins awarded is random.


Set your sights on landing high value winnings by hitting matched combinations of the Flaming Ninja's valuables. A pair of Swords, a Red Scroll, Ninja Belt, a quaint Fox Mask and a pair of Boots, reward players with significant coin credits. The pair of Swords has the highest Paytable Values; doling out 30, 60 or 200 credits on a set of 3, 4 or 5 Swords comprising a payline win.
The Wild Symbol has only one (1) pay scheme. That of awarding 500 credits on a 5-of-a-kind winning combo composed purely of Wild Symbols
Flaming Fox Online Slot: Flaming Reels Feature
Flaming Reels contain only high paying icons, such as the Ninja Swords and other aforementioned accessories, as well as the Wild Symbol. Those special reels though are hidden underneath the grid as second reel-layers. They can only be revealed by the Flaming Fox once he comes out of meditation.
On any spin that is about to launch, animations of the meditating Fox Ninja may appear. If it turns into a karate chopping, high-kicking action figure, it will destroy one or two random reels to unravel Flaming Reels. Several high paying icons and/or Wild Symbol will therefore populate the grid with certainty.
If the fired-up Fox, smashes individual cells twice, the destroyed symbols will be replaced by Locking Wilds.
Not unless the meditating Fox brings out Flaming Reels while in a free round. Once the grid displays one or more Flaming Reels or Locking Wilds, all such features stay in place in remaining free-spins.
Flaming Fox Free Games
Images of the Flaming Fox come around as Free-Spins Symbol. When three or more of the element are simultaneously in view, a round of free games sets off. The number of bonus spins awarded is determined at random.
Still, the greater the number of Free-Spins icons involved in triggering the bonus round, the broader the range of potential free-spins turning up as free games. In addition, a special Extra Spin icon may appear during a bonus bout, and award an additional free turn.
The Flaming Fox will continue to bring out the Flaming Reels in order to give players increased chances of raking in significant bonus wins. This time though, all spin-optimising features unraveled by the Fox, stays locked throughout the remaining period of the bonus round.