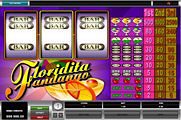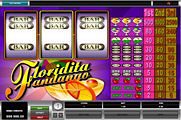 • Paylines: 1
• Bonus Games: None
• Free Spins: No
• Software Developer: Microgaming
• Casino: Jackpot City, Gaming Club, The lucky Nugget
• Jackpot: Yes
• Reels: Three
Floridita Fandango is a fun slot machine that can be found at Jackpot City, The Lucky Nugget and Gaming Club as well as any other Microgaming Casino. The game is all about excitement and partying, this is why it is called Floridita Fandango. The game's theme dominates the entire interface of the game, as players will see a party drink with fruits and a slice of orange on top beside the name of the game. This can be found under the reels. So if you want to party and live the dream, then this is the game that you should be playing and you can get to try it out here for free without having to place any real money bets as we host the game with demo credits.
As for the game itself, it has three spinning reels and one single payline resembling the traditional slot machine. Not only that, as like traditional slots, players will see the paytable of the game in the form of a colorful table that can be found on the right side of the screen. This table consists of three columns, each column shows players the payouts that they can claim according to their stake and the symbols that they have achieved on the payline. This is why this paytable that is located on the right is divided into 3 columns, one for each betting level as players can place 1 coin, 2 coins or 3 coins.
Although the game does not come with any special symbols, features or bonus rounds, it comes with a high paying jackpot, which can pay players a total of 2500 coins. This award can be claimed when players have placed the max bet, using three coins and then get three orange-topped drinks on the payline of the game. If players get that combo while placing two coins, they will still be rewarded handsomely, they will get 1000 coins. This is why players who like enjoying classic 3 reeled slot machines like this one right here are always advised to place the biggest bet of 3 coins so they can have a crack at triggering the jackpot payout of the slot machine. Try out the game right here for fun with demo credits and get to know what the game has in store for you before playing it with real cash.