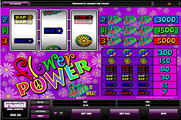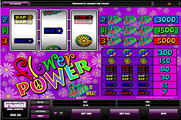 Flower Power Casino Slots
Flower Power is a three reeled slot machine by Microgaming. The game will take player back to the 70s where people were using flower power in order to spread peace and love all across the world. Microgaming invites players to enjoy a heartfelt experience filled with peace and calm through this slot machine, Flower Power, as they get to claim the great pays and the amazing rewards that the game has to offer them. The game is a classic slot game that comes with three reels and offers players three winning lines that can be found across these reels.

The Interface of the Flower Themed casino Slots
The entire interface of the slot machine is inspired by Flower Power; this is why players will see that the interface is dominated by the pink color with flowers all over the screen. As for the symbols that will appear for players on top of these reels and their lines, they include single blue bar symbols, double yellow bar symbols and triple red bar symbols. They also include the symbol of peace, a colorful flower and the multi color flower power logo of the game.
The highest paying symbol of them all is the flower power logo. This symbol can pay players generously in line payouts as it gives them from 1500 and 5000 coins, depending on how many coins they have placed. If they placed 1 coin, 2 coins or 3 coins, they will earn 1500, 3000 and 5000 coins respectively. As for the other icons, they pay players differently from 7 to 300 coins. Players can check the different payouts at the paytable of the game which is located on the right side of the screen.
The Flower Power logo of the game does not only give players the highest paying icon, as it is a special symbol as it acts as wild one whenever it lands on the reels of the game. This means that it is going to replace any of the other icons on the reels of the game in order to help players create a better paying combo. So whenever players see the Flower Power logo on the reels, they know that they have a better chance at getting paid because of what the wild icon has to offer them.