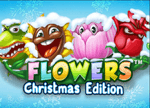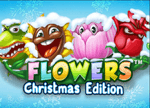 Flowers: Christmas Edition Slot Review
It's not quite Halloween yet, but Christmas is right around the corner, and there are many people and places that are already getting in to the holiday spirit, and Net Entertainment is no different. . Net Entertainment hasn't always been known for their holiday themed games, but they have finally listened to what their players want and have created holiday editions of a few of their most popular online slot games. They have finally announced a release date for the Christmas Edition of their popular slot, Flowers. This holly jolly edition will be released on the first of December.

Playing Flowers: Christmas Edition
The original Flowers slot game that Net Entertainment created was very popular, so it's no surprise that they would change as little as possible to create this holiday themed game, and instead just added their magic Christmas touch to create this fun new holiday take on an old classic.
While the vast majority of the symbols has stayed the same, with cute, quirky plants and sound effects, the overall image has been winterized. There is snow everywhere in the Flowers garden, and instead of brightly colored letter symbols, as is classic, they are now cute little gingerbread letters!
The Double symbols that were popular and unique to the original version are also in this new one too. If you aren't familiar to what these are, or what they do, it's a really neat little feature. It's exactly what it sounds like too; one of the symbol boxes will be show double of that symbol. It's more than just looks though. It also acts like there are two of that symbol on the pay line, in addition to what the other four reels show, greatly increasing your chances of a win on that and other pay lines.
Stacked Wild symbols are also featured when you're lucky enough to earn free spins. This means that instead of taking up one small box, they can take up two or more spaces on a reel, vertically, adding as wilds for all those spaces as well. This is another great way to win on a pay line, or on multiple ones. The original Flowers online slot game has maintained its popularity since it originally debuted, so there's no real surprise that Net Entertainment would select it to become one of its new holiday themed online slot games. This slot will not only appeal to those that really enjoyed playing the original game, but also anyone that likes holiday slots, or ones that showcase unique features, like Double symbols.