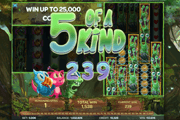 Forest Mania Online Slot: Fear Not the Purple Monster, It Brings Wilds, Extra Wilds and Free-Spins!
Forest Mania by iSoftBet brings a different kind of reel-spinning, real-money betting entertainment. The game presents players with a set up in which quaint forest inhabitants are captured as elements in two sets of reels. The smaller set is built as a 4 x 5 slot grid, while the larger grid contains 12 layers of icons in each of the 5 columns. The two sets of reels operate independently, allowing each slot board to produce wins evaluated on the merits of the elements displayed by their respective reels. One hundred paylines in all are configured between the two playing fields.
Join three (3) strange forest creatures standing wide-eyed and gaping outside those sets of reels. Although a Purple Monster comes out occasionally to drop a jar full of acorns on the three observers, Forest Mania players are likely to benefit from its mischief. Any one of those acorns may trigger hordes of Wild Symbols that the game adds arbitrarily to both sets of reels. If luck is on a player's side, one of the acorns could trigger a round of Free-Spins in which more Wild Symbol additions may take place.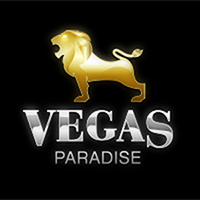 Overall Rating
PLAY NOW
Vegas Paradise
Welcome Bonus of $€£ 200 for all New Casino Players
Hottest Casino in the United Kingdom
Huge collection of online slots and table Games
Extremely High Payout Percentage
Monthly Promotions and Free Play
Forest Mania Online Slot: Wild Symbol
The "W" symbol represents the Wild element and emerges only after the Purple Monster has dropped a jarful of acorns. The Wild addition features are random, occurring either as win-boosting elements only in the smaller set of reels, or in both the small and large sets of reels. The outcome depends on the color of the Forest Creature left standing beside the reels, once all the commotion caused by the dropped acorns, is over.
Wild Feature 1 The Blue Forest Mania creature triggers this win-boosting feature. The "W" acorn will select an icon in the smaller reel, and then sequesters all positions occupied by that chosen symbol in both small and large reels. The greater the number of positions replaced with "W" totems, the greater the chances of striking multiple payline wins.
Wild Feature 2 The Red Forest Mania creature signals a more potent Wild addition feature. Here, the "W" icon selects one up to three reels in the smaller grid. It will replace all selected reels with stacks of "Ws" that will turn columns into full Wild Reels. The larger set of reels will then replicate the full Stack of Wilds in the same column/s, and in so doing produce 12-tier high Wild Reels.
Forest Mania Online Slot: Free Games
The Green Forest Mania creature may prove to be the most significant observer to stand pat on the ground after the acorn tumult. In such an event, a round of free games will be awarded. The acorns produce a clock-like object that indicates the number of free-spins rewards.
During the free round, the Purple Monster appears more frequently, optimizing bonus spins by dropping acorns more often that it does in the base game.
Forest Mania Online Slot: Betting Options
All 100 paylines are played, which requires a 50-coin stake per spin. A coin value, anywhere between 0.01 and 2.00 will be selected to determine the Total Bet staked on each spin. The betting options therefore range from as as low as 0.50 (0.01 x 50 paylines) per spin, to as high as 100.00 (2.00 x 50 coins).
Forest Mania : Forest Creatures Enhance Reels with Multiple Wilds/Wild Reels and Trigger Free Games!
Forest Mania online slot by iSoftbet veers from the traditional method of furnishing players with Wild Symbols that could substitute for regular symbols. Here, the Wilds are added at random and in multiples via a single event and across two sets of reels that work independently. Even the Free Games are triggered arbitrarily, without need to land on Scatter or Bonus Game Symbols.