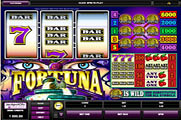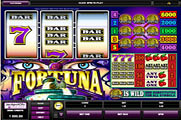 Fortuna Slot Machine
Just like what the name of the game implies, the game has a lot of fortunes that it has to offer to the players, therefore, it is entitled Fortuna. Players will be able to grab their share of these fortunes by simply spinning the reels of the game after they have placed their bets. The game is a simple 3-reeled traditional slot that resembles the slots that players have always enjoyed at bars and pubs. Although most 3-reeled slots only come with one single payline, this video slot machine offers players more winning chances as it comes with 5 paylines so players can have 5 chances of winning.


A Simple Free Slot Experience
Placing the bets is made simple as players will only need to go through the simple betting options that are found under the reels of the game. These options include the coins' value which varies between 0.01 and 20, the other betting option is the number of coins players want to place. They can place from 1 up to 5 coins, the highest the bet, the more rewards that players are eligible to claim.
As for the symbols that will land on the reels and lines of the game, they include plenty of classic symbols that appear on regular 3-reeled slots such as sevens, cherries and bar symbols. They also include the logo of the game, which happens to be a special symbol. This is because the Fortune logo of the game is the highest paying icon of the slot machine. If players get three of the Fortune logo of the game on any of the paylines, players will get to claim the jackpot payout of the slot machine. The amount of the jackpot depends on how many coins that players have placed. If they place 1, 2, 3, 4 or 5 coins, they will earn 1000 coins, 2000 coins, 3000 coins, 5000 coins and 6000 coins respectively. Players can check out the other awards that the other icons can give away at the paytable of the game which is located at the right side of the screen.
The logo is not only the jackpot symbol, as it also acts as a wild icon. This means that the logo has the ability to replace all other icons on the reels of the game to help players in getting paid. This is why when it appears on the reels, players would know that they have a better chance to claim a payout.