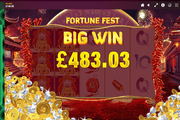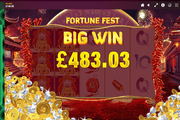 Fortune Fest Online Slot: Collect a Lion's Share of Winnings via Bonus Wheel Multiplier of up to 10x
Fortune Fest by Red Tiger is a 10-payline online slot in which Free-Spins winnings could increase by up to 10x. Presented as an Asian-themed, icon-matching game, base and bonus winnings come not only from landing payline combos. Game content also includes a Pick Bonus segment guaranteed to bestow a bonus prize. Moreover, as a Mr. Green online casino offering, Fortune Fest affords players chances of claiming one of three (3) Jackpots: a Progressive, a Daily and a Mini Cash Prize.
At the forefront are images of a Chinese Emperor acting as Wild Symbols. Emperor Wilds have great potential to perform substitution actions as they often appear as Stacked Symbols; partially or entirely covering one or more reels.


Actually, nearly all elements may land as full or partial Stacked Symbols, with only the Free-Spins and Jackpot icons as exceptions. Aim to strike payline wins composed of Red Lantern images, as the symbol has the highest range of regular pays. A convergence of 3, 4 or 5 Red Lanterns from the leftmost paying position, awards 30, 90 or 380 win-credits on the longest combo occurring as payline win.
Fortune Fest Online Slot: Wild Symbol
Emperor Wilds can represent any symbol, except Free-Spins or Jackpot tokens. When combining with alike images in the same payline, a Wild Symbol can complete or expand a winning arrangement. Payouts garnered from Wild-completed combos are based on the Paytable Values of the represented icon.
A base or bonus spin that yields Emperor Wilds in a paying line, may deliver the highest rewards. A grouping of 3, 4 or 5 Emperor images occurring in succession, starting from the far left position of a pay pattern, respectively garners 50, 150 or 500 win-credits. Now if such a feat is achieved during a free round, the amount may still increase by way of a Bonus-Win Multiplier.
Fortune Fest Online Slot: Free Round
A round of bet-free games roll out if a scattering of at least three (3) Free-Spins tokens land as outcomes of a paid spin. A free round initialises by randomly generating numbers that will determine the number of Free-Spins to award. Once established, a Big Wins Multiplier Wheel unlocks as well and will spin in conjunction with each free turn.
Big Wins Multiplier Wheel – After each reel-spin, take note of the prize wedge on which the Big Wins Wheel lands. If it lands on a Spin Multiplier, the latter will increase any winnings garnered from the correlated bonus spin. Now if the Wheel Prize is a Bonus, a random number of additional Free-Spins will be awarded.
Fortune Fest Online Slot: Pick Bonus
On any random occasion and before a spin launches, a panel displaying three (3) Red .Envelopes, may come into view. Players will then select one to reveal a Total Bet Multiplier. The bonus picking activity continues for as long as the multiplier revealed comes with a "Pick Again" prompt. All factors revealed add-up until such time a pick chances upon a Multiplier Value without a "Pick Again" message.
Fortune Fest game info states that up to 88x the Bet can be won from this random bonus feature.