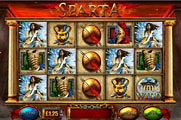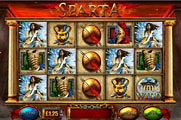 Fortunes of Sparta Slot Machine
THIS IS SPARTA! This is what players will hear as soon as the game loads as they will see King Leonides falling from above in his Spartan gear, spear and shield slamming into the ground while screaming his catchphrase "This Is Sparta". This clearly gives players an idea of what they can expect from the game, along with the name of the game. All of this shows players that they will enjoy a historic gaming experience as they travel back in time to Sparta where they can join the great Spartan king Leonides in his battles as they reap the great fortunes that Sparta is well known for.
The format of the Slot Machine
Fortunes of Sparta is an advanced video slot machine that offers players a total of 5 reels and gives them 20 chances of winning as the game hosts 20 paylines. The entire gaming interface of the video slot machine is themed around Sparta. This is why they will see a lot of Spartan architecture in the background such as the white columns that outline the reels of the game. The same can be said about the symbols that appear spinning on the reels and the lines of the game as they include the Spartan king, his Spartan Queen, a Spartan shield and spear, a Spartan's soldier's war helm, swords, pots, body armor and more.
Before players can start spinning the beautiful reels and the symbols of the game, they will have to determine how much they want to place in bets. They will be able to do that by going through the available bets at the Total Bet cell under the reels. The minimum bet that can be placed is equal 0.25 and the biggest bet is equal 10 credits. After that, players will start the game by clicking on the Spin button to spin the game once, or they can choose to spin the game multiple times by going through the options available at the Auto Play feature. This will allow them to choose up to 25 spins.
Winnings are eared whenever players manage to create a winning combo of symbols on a single line, this combo has to contain at least 3 matching icons from the left to the right. All of the different line pays that the game has to offer are listed in the paytable of the game. These payouts differ according to the bets placed.
The game has the spreading wild feature, this happens when the wild Spartan icon lands on the middle reel. The Spartan bonus icon is the bonus symbol of the slot machine as it can trigger the free spins feature. The number of spins differs according to the number of bonus icons that landed on the reels. Players can up to 100 free spins.