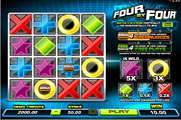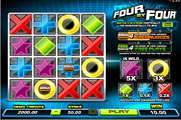 Four by Four Slot Machine
Four By Four is a very exciting and a unique Microgaming powered video slot machine. It has a very special setup and an exciting game play, which is not as surprise since it is powered by Microgaming, which is one of the biggest and one of the leading names in the industry of online gambling which is also known for its innovation and unique games.
The game is called Four by Four because it is pretty much like the connect 4 game that we used to play as children but instead of using coins with 2 colors, there are 5 different symbols that players can earn rewards from. Players would get paid by forming rows or columns but not diagonals. These 5 symbols are the red X, blue +, green square, yellow circle and the purple star. Each of these symbols pays players differently according to the paytable that is located on the main screen on the right side of the reels.

The Payouts of the Slot Machine
The red X pays 0.2x the wager, the blue + pays players 0.5x their wager, the green square pays players 1x their wager, the yellow circle pays 3x the wager while the purple star pays 5x the wager. The wagers can be placed under the reels, they will click on the + and the – symbols at the Stake cell. Players can place a wager that is as low as 0.10 and as high as 50.
Players will then click on Spin so the symbols can start to spin on the 4 reels of the game and the 8 paylines on which players can get 4 matching symbols. Players will then be paid according to the matching symbols they get. On top of all of that, the game has the falling reels feature. This means that whenever players manage to create a payout after forming a combo of matching symbols, the matching symbols are going to disappear and new symbols will fall from above to replace them giving players another chance of forming a winning combo. This can keep happening as long as players keep forming consecutive winning combos.
Also, symbols might appear with the Free Plays symbol or the Bonus Nudges symbol on them. Players will need to get at least 4 symbols with the same sign on them in order to trigger one of the two special bonuses that the game has. The Bonus Nudges gives players the chance to nudge the reels to manipulate the symbols to claim a payout while the Free Games bonus gives players a number of free spins that they can enjoy on the video slot.