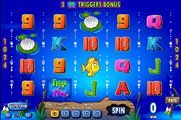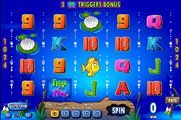 Frogs N Flies Free Slot
Frogs N Flies is a very friendly video slot game that is provided to you by Amaya Gaming. This is why you can expect to enjoy a fun gaming experience that is offered in high quality visuals and vivid sound effects that will keep you engaged into the game play and entertained. You can also rest assured that there are plenty of ways through which you can earn great rewards. This includes a long list of winning combos that players can form to win as well as through the greatly rewarding bonus features and symbols.
Reels and Lines of the Free slot
The game comes in 5 reels and it has 1024 ways to win, which means more chances for players to achieve a winning combo, instead of a limited number of winning lines that most games offer. On those reels, players will find symbols that are inspired by the theme of the game which is about Frogs and fish. Players will find a frog symbol, a leaf on water symbol, a yellow fish, Frogs N flies logo and card symbols that come in attractive colorful designs.
The game has the auto spin feature which gives players the chance to specify a number of spins and place a bet and just sit back and watch the game's reels as they spin while reaping on the great rewards. Speaking of rewards, players who find a wild frog symbol on the reels will know that they are in for a surprise as this wild frog can substitute for other symbols to help them get paid. There is also the logo of the game which is a scatter bonus symbol that can trigger up to twenty free spins for lucky online players who get a minimum of 3 logos on the reels of the game.
Frogs n' Flies Game Summary
Its interesting feature is that the five reels are rearranged to give players 1024 ways to win per individual spin. This is achieved by rearranging the pay line to allow winning symbol combinations to be achieved from left to right.
These features stack to result in some significant payouts from time to time. The frog functions as the wild symbol. These can only be achieved on reels two through four. The wild symbol supersedes all other symbols barring the scatter symbol. Scatters are achievable on reels three through five. Additionally, the scatter is a square symbol that has a Frogs 'n Flies" logo. The game features the lily pad, the yellow perch and the brown turtle as symbols and aces, jacks, queens, kings, nine and ten as well.
The graphics are above board for free slots, but the game does not feature the swamp or pond setting as well as it could have been represented. Additionally, the audio was not changed to reflect any swamp-like features. It features the same music as other Amaya free slots, but with an untimely croak periodically. This sounds petty, but as a player, it is a distraction to be drawn into a game by the common Amaya casino music only to have a weird croak break concentration. This only succeeds in reminding the player that the game is very basic. It borders on being amateurish, and sophisticated players may be turned off by this.
Frogs n' Flies Bonuses
The game is also very basic in its bonus offerings. This is also a feature that is not pleasing to seasoned players. Frogs 'n Flies has single bonus opportunity. This opportunity is triggered when the scatter symbols are lined up. Lining up three scatters wins 5 free spins. Four scatters triggers 10 free spins, and 5 scatter symbols receives an award of 20 free spins. 25,000 can be scored on the initial wager, but free spins can cause the game to trigger multiple times and can increase the payout greatly in some cases.
More Frogs n' Flies Game Detail
The chances of winning are in line with games of this quality. The awkward method by which the paylines are arranged at least make it easy to view wins. This can be multiplied by the fact that with one spin a player can receive two through five of a kind. A player is presented with seemingly unending option to arrange winning combos because if this. It also features animation to make the play more interesting. When a win occurs, a frog jumps and croaks, rabbits make the traditional rabbit noises, turtles produce walking canes and begin a dance routine, and the yellow fish winks and swims in the other direction quickly. This game would be an excellent game for beginners that are gambling lightly or simply playing for entertainment. When they advance, they probably will not return to these basic games however.
[/CBC]