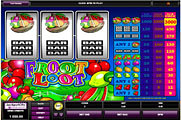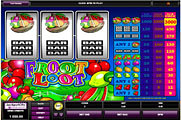 Froot Loot – The Ultimate Free Slot
Froot Loot is an amazing and an exciting free slot machine that players can enjoy here for free with practice credits before going to online casinos such as Jackpot City and Gaming Club in order to play the game for real. The game, as apparent from its name, is themed around fruits, which is not really a surprise since it is a classic fruit machine after all.

A Classic Free Slot Experience
Being a classic fruit machine means that the game follows in the same footsteps of traditional slots, this is why the game has 3 reels and offers players one single bet line that is found in the middle of those reels. It also means that players will see plenty of classic symbols that appear on the reels and the line of the game. These symbols include cherries, lemons, oranges, watermelons, plums, bar symbols and a fruit salad cup.
All symbols will only give players an award when three of them land on the reels. There are only two exceptions to that rule, the cherry symbol and the fruit salad cup symbol as these symbols will pay players whenever 1 or 2 of them land on the paylines. Players can reveal all of the different payouts by looking at the paytable of the game on the right side. The payouts table has 4 columns. The first one lists all of the different symbols and the winning combos, as for the other 3 columns, they show players the different payouts for each combo depending on how many coins they have decided to place. The highest paying symbol of them all is none other than the Fruit salad cup. It pays players 1000, 2000 and 5000 coins if they have placed 1 coin, 2 coins or 3 coins respectively.
The bets that players will place can be found under the reels, at the control panel. Players will see two betting options that they can toggle between in order to place their bet. The first betting option is the value of the coins. Players will click on the + and the – to go between the coin values which vary between 0.25 and 5. The other option is the number of coins players want to place on the payline. They can place 1 coin, 2 coins and 3 coins. This means that the betting range created ranges between 0.25 and 15 credits.