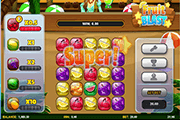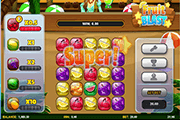 Fruit Blast Online Slot: Fill Fruit Bar Meters to Win; Collect Stars to Unlock Next Game Level
Fruit Blast online slot by Microgaming furnishes a first of its kind, icon-matching game. The primary goal is to connect three or more identical symbols, horizontally, vertically or both ways. The Cluster of symbols will then qualify as Meter Fillers. Filling up meters entails clicking on the Clustered Symbols, in order to transfer the images. Transferring the elements will then open up spaces into where new Fruit Bars coming from above, lodge.
As new Fruit Bars fall, more Fruit Clusters may form and furnish additional Meter-Filler symbols. It takes seven (7) identical images to fully load a Fruit Meter and achieve a win. However, the Fruit Meter loading-process must carry on continuously and via a single spin. Otherwise, all partially filled meters resets to zero once a new spin launches.


In a succession of clustering, transferring, and fruit-blasting activities, any Fruit Meter may fill-up more than once. In such cases, the number of times a Meter has been filled multiplies the corresponding pay awarded by the winning icon. The board .will display a "No More Move" notice in case the Fruit Blast Board no longer contains qualifying Clustered Symbols.
Fruit Blast Online Slot: Rewards Scheme
Every Colored Bar appearing as reel element represents a Fruit. The Red Bar represents Cherries, the Light Green Bar is for the Lemon, the Purple Bar for the Grapes, the Dark Green Bar for the Watermelon, and lastly, the Orange Bar for the Pineapple. Each of this symbol comes with a Bet Value Multiplier that can be won once the corresponding Fruit Meter is full. The Pineapple Orange Bar bestows the highest reward as it applies a x10 Bet Value Multiplier on every Full-Meter Win.
Now if a Meter filled more than once via a single spin, the Bet Multiplier will increase by the number of times the Meter became full. On the other hand, a spin that results to multiple Fruit Bar wins will first aggregate all factors won, in order to determine the Total Winnings of that fruitful Fruit Blast spin.
Fruit Blast Online Slot: Special Symbols
Two (2) special symbols may appear among the set of Fruit Bars displayed by the 5×6 slot grid.
The Bonus Symbol – The Fruit Blast board brings on this symbol in some higher game levels. Three or more cluster of Bonus icons tend to blast and disappear, whilst triggering a certain bonus feature.
The Jackpot Symbol – This icon instantly awards a Bonus Prize equivalent to x1000 of the Bet Value, when forming a cluster in higher game levels.
Fruit Blast Game Levels: Star Symbols and Bonus Features
Advancing and unlocking higher game levels requires collecting Star Symbols. Every Fruit Bar transferred and loaded to any Fruit Meter earns players a Progression Star symbol. A Star Collection indicator at the top right of the game board indicates the number of Stars to collect in order to unlock the next stage. All Stars collected carries over to the next spin until the total number amassed is enough to unlock the next level.
Game Levels are represented by a Bartender. Level 1 starts with Bartender Summer. In this initial stage, the Fruit Blast reels display purely Fruit Bar Symbols. Collecting enough Progression Star Symbols will also activate the Bonus and Jackpot symbols. When a Cluster of Bonus Symbols explodes in a particular game level, additional rewards can be won by way of a level-specific bonus feature.
Level 2:Hawaiian Shake – A Bonus Symbol Blast awards an instant win of up to x8 the Bet Value.
Level 5:Dance Nights – Basically, this a round of Free-Games that awards five (5) bet-free turns. Although each turn results to guaranteed wins, the Jackpot or Bonus Symbols are excluded from this game board.
Level 9: Pick and Win – A Pick-a-Prize game, if activated by a Bonus Symbol Blast, players choose icons that reveal prizes of up to x15 of the Bet. They can continue collecting rewards, until they choose an object that reveals a Collect prompt.
Level 12: Goth a Fruit? Another Pick-a-Prize Bonus Game that awards up to 196x the Bet Value.
Level 13: Happy Hour – Getting one Fruit Meter filled via single bet-free turn will award up to x10 of the Bet Value.
Level 19: Side Dish – Activates one (1) game, boosted by a 10x Win-Multiplier.
Double Shake -Win a base prize, then work toward doubling the amount. Winning continuously allows a Fruit Blast player to reap doubled rewards up to a maximum of 64x the Bet Value.
Pick and Win II – A Pick-a-Prize game that includes a win-Multiplier as Mystery Reward. Revealing one increases the total winnings gained from the turn, up to a maximum of 170x the Bet Value.