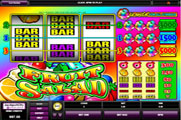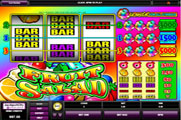 Fruit Salad Free Slot
Fruit Salad is a 3-reeled classic fruit machine that is themed around a tasty fruit salad, which pays tribute to original slot machines that only had fruit symbols spinning on them, therefore, they were named fruit machines. This game is brought to players by none other than Microgaming, a software developer that is known for its unique games that come in great visuals and a captivating game play.

The Fruit Themed Experience of the Free Slot
From the moment players open the slot machine, they will start hearing the familiar sounds of classic fruit machines with the same noise they would hear at any local bar or a pub, which is the original venue in which these machines were introduced. The entire game is themed around fruit salad, and this is why players will notice the colorful interface of the game and symbols that spin on its reels. These reels can be found on the left side of the reels at the top. Spread across these reels, players will find three paylines on which they will have to get matching symbols in order to be able to claim a payout.
The icons that will form combos on these paylines include plumbs, oranges, bar symbols and cups of fruit salad. These different symbols will give player different payouts, depending on the paytable. This paytable is located on the right side and it will show players the different payouts that the game has to offer them. Players can earn from 7 to 300 coins through the regular symbols. As for the largest payout, it is given to players by getting three fruit salad cups on any of the 3 paylines of the fruit machine. The three highest payouts are equal 1500, 3000 and 5000. The amount depends on the number of coins that players have placed as players can place from 1 coin to 3 coins. These bets can be determined under the reels as players will choose the number of coins and the value of these coins which will contribute in creating the final bet that players will place on each spin.
The Fruit Salad symbol is also a wild symbol, which means that it is not an ordinary symbol as it has the ability to substitute for any of the other icons anywhere one the reels of the game to help players in forming a winning combo so they can earn a payout