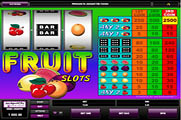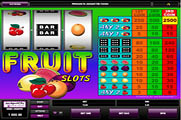 Fruit Slots Free Slot Machine
We all enjoy fruit slots, fruit slots were one of the very first gambling machines that were found at pubs and bars. Microgaming gives players the chance to enjoy a nostalgic experience without having to re visit the old pub or an ancient bar, all what they have to do is spin the reels of this slot machine that will take them back in time years ago as they enjoy the ultimate fruit machine experience. The machine has the same format of classic slots with 1 payline and three simple reels that have the exact same look as the old mechanical slots.

Free slot Machine Symbols and Visuals
Even the symbols that will appear on these reels and lines are inspired by classic fruit machines as they include multiple fruits including red cherries, lemons, orange, plums and watermelons as well as a fruit salad mix. There are three more symbols, that are also inspired by the classic slot machines which are the bar symbols (1 bar, 2 bars and the 3 bars symbols).
All of these symbols will only give players an award when three of them land on the middle winning line of the game. The only symbols that pay players when one symbol or two symbols appear on the payline are the cherry symbol and the fruit salad mix symbol.
In order for players to know what re the awards that they can expect to earn at fruit slots, they only have to look at the right side where they will see a big table that features all of the different winning combos and their payouts. There are three columns for the awards, one for each betting level as there are three betting levels (1 coin, 2 coins and 3 coins). Of course, players are always advised to place the maximum bet, especially on small machines like this, so they can grab the biggest rewards that are available.
Speaking of the biggest awards, they are given by the fruit salad mix symbol. When three of these symbols appear for lucky players on the win line, players will earn an award that varies between 250 and 2500, depending on the number of coins they chose to place on the line. These bets can be placed at the control panel under the reels of the game by going through the available wagering options that the machine has.