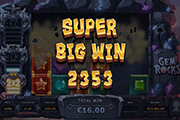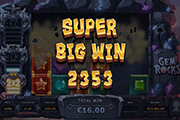 Gem Rocks Online Slot: Series of Drop Down Wins Generate Monster Rocks and Giant Icons
Gem Rocks online slot by Yggdrasil Gaming provides 4,096 ways by which three or more gem symbols land as winning combinations. This icon-matching game works via a Drop Down system that empowers players to continuously increase rewards earned on a single spin. Actually, Yggdrasil's Drop Down Wins are similar to the Cascading Wins originally introduced by Microgaming. Paying icons disappear and create gaps into which symbols from above drop. A single spin therefore can garner additional rewards if new winning combinations form.
Yggdrasil's Drop Down Wins though come with an additional feature. A series of two (2) up to nine (9) Drop Down Wins can bring on Monster Rock Symbols. Presented as golem-like images, Monster Rocks install huge icons in 2 x 2, 3x 3, or 4 x 4 dimensions. Monster Rocks get bigger during extended Drop Down Win events. The larger the Monster Rocks produced, the greater the number of identical units installed as reel elements. That being the case, the likelier the possibility of creating additional Drop Down Wins on a single spin.


Gem Rocks of different shapes and colors usually land on the 4 x 6 grid as Stacked Symbols. Occasionally, Giant Gem Icons may emerge on their own. This game though has no Wild icon to offer as element that can pose as substitute symbol. Still, stacked structures and Giant Gems are helpful, since they are capable of furnishing identical images in adjacent reels.
Gem Rocks Online Slot: Drop Down Wins
Drop Down Wins occurring one after another, lead to a chain of bet-free winning events. Three or more one-a-kind Gem Rocks aligned consecutively starting from the first reel, qualify as paying combinations. Players can expect greater payouts if a Drop Down Win consists of identical images clustered in adjacent rows and reels.
A 3-Level Monster Rock Meter activates when two (2) Drop Down Wins occur in succession. If more Drop Down wins immediately follow, they will likewise promote increases in Monster Rock Meter levels.
Gem Rocks Online Slot: Monster Rock Feature
The Golem images are the Monster Rocks that add blocks of identical icons. Monster Rocks come in different colors; usually taking on the hue of a potential Gem Rock combination. They also occur in different sizes; based on the number of uninterrupted series of Drop Down Wins accounted by the Monster Rock Meter.
Two (2) successive Drop Down Wins charge up the 2 x 2 Meter Level and produce a 2 x 2 Monster Rock. If the meter accounts a total of five (5) consecutive Drop Down Wins, a 3 x 3 Monster Rock emerges. The latter will then produce a 3 x 3 block of alike images that will greatly improve chances of striking a random Drop Down Win. The largest 4 x 4 Monster Rock comes into view if the series of Drop Down Wins reaches a total of nine (9) or more uninterrupted wins.
If at that point more Drop Down Wins occur, the largest 4 x 4 Monster Rock will continue to add a 4 x 4 block of images. The Meter resets to zero level, only if the fresh batch of reel elements will not produce a winning combination.