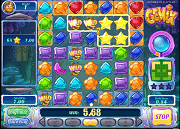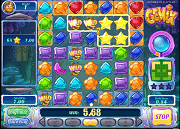 This GEMix Slots Online Game involves the use of precious gem stones for a glimmering payout. GEMiX is bright, energetic, and colorful. The radiating gemstones come in almost every color and drop in to fill up the game board.
Round up precious gemstones for a brilliant payout in GEMiX, a highly polished slot game charged with creative energy from Play'n GO. With infinite rounds, you can keep racking up prizes in this fun challenge by matching clusters of at least 5 gems of the same color. The more gems you have in a cluster, the more your prize is worth!

The jewels involved in the winning combination will be replaced by new ones, giving you even more opportunities to collect new prizes and dazzling special effects. The 7×7 grid is the perfect size to play a versatile game, and the crystal charge meter is not only gorgeous but incredibly useful in keeping track of your points. In addition, there are various multipliers, from 8x to 1000x, meaning you never know when the game could break wide open with additional fun and features.
A grid at the bottom right of the screen helps you keep track of potential matches, so not only can you play quickly, you can play as efficiently as you choose. After your crystal meter is charged, visually stunning powers abound in the GEMix Slots Online Game. Chain lighting occurs when gems match up, making the corners light up. A light beam power up shoots through the grid, turning all of the gems the same color.
A crystal warp allows you to turn every symbol of a certain color into another color. The novablast powerup lets you blow up a symbol, allowing more to fall into its place. Then there is the supercharged crystal, which is difficult to get but allows you to multiple your wins by 3x. Use these amazing powerups in fun new new worlds like Miner's World, Princess World, and Wizard World.