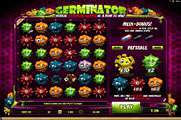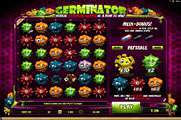 Germinator Online Slots
The Germinator is a very exciting video slot machine that is powered by Microgaming. The game has a grid of 6×6, therefore, it has 6 paylines, 6 horizontal and 6 vertical. The game is themed around germs and this is why it is called a germinator. If you always thought that germs can only be harmful, you thought wrong, this is because in the Germinator Online Slot Game, germs can be very rewarding and fun to be around.

Unique Game Play of Online Slots
The video slot has a very unique game play, this is because the game has a chain reaction theme to it, this is because players would get paid whenever they get at least 3 matching germs on the lines of the game in any positions, whether horizontal or vertical, they will get paid according to the number of germs matched as well as the color of the matched germ. This is because each colored germ has a different payout. The orange germ pays players x0.2 the line bet, the red germ pays x0.6 the line bet, the blue germ pays x1 the line bet, the green germ pays x2 the line bet and the yellow germ pays x10 the line bet. These payouts are per germ. So it means, for example, if players get 3 yellow germs, they will be paid x10 their line bet per germ, so they will earn a total of x30 their line bet.
On top of these payouts, the game has the continuity factor, this means that whenever players earn a payout, the matching symbols, whether 3 or more than 3, will disappear and new germs of different colors will fall from above in order to replace them giving players more chances of achieving a payout. As long as they keep creating winning combos, they will keep getting more chances of winning without having to place any extra wagers.
The game has a special feature that is triggered with the pill symbol. This pill symbol can land anywhere on the reels and the lines of the game. When players manage to get a total of 3 pills anywhere on the reels, the feature will be triggered. This feature gives players the choice to select a color of a germ to exterminate it. The color of the germ chosen will vanish from the game screen and new germs will start to fall from above to fill in its place giving players plenty of new chances of achieving a winning combo.
The bets of the game can be placed under the grid. The bet is pretty simple as they will choose the value of the line bet by toggling through the available values. These values vary between 0.05 and 2.