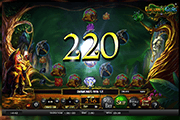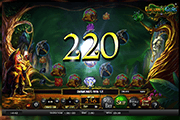 Giovanni's Gems Online Slot: Cluster Win May Set Off a Chain of Win-Events
Giovanni's Gems is a non-payline online slot configured by Betsoft as a reactor type of icon-matching game. An assortment of mining tools, objects and uncut gemstones may land as winning Clustered Symbols within a 7×7 slot grid. Five or more alike symbols annexed to each other form a Cluster Win. All winning symbols will then explode, creating gaps into which new icons drop and align with the older set of symbols.
The image of the featured miner Giovanni, is an exception to the clustering requisite. Three, or as many Giovanni images as possible, altogether in view in any reel positions, award coin credits. The Bet staked per spin determines the monetary value of the coin wins. In addition to cash prizes, five or more Giovanni images award Free-Spins.


Fresh alignments may result to new Cluster Wins attributable to a single spin. Such an occurrence could further trigger a chain of exploding and dropping reactions. Once the chain reactions end, all rewards earned will be aggregated and credited as a lump sum reward.
Giovanni's Gems Online Slot : Special Coal and Diamond Symbols
Pay attention to the Coal Symbols. Although this icon has no payout scheme of its own, it can transform into a special-paying Diamond Symbol. Special because it only takes one Diamond icon in view, to win 12 coin credits. Two or as many as Diamonds as possible in any positions, can bring 25 or more coin credits, up to a maximum of 3,000.
However, Diamond images during base games are configured as offshoots of the Coal Symbol; denoting that it does not occur as Diamond image in a direct manner.
Coal to Diamond Symbol-Transformation A Coal icon occurring next to one or more exploding symbols, undergoes transformation as a Diamond totem. Corresponding pays will then be awarded, whilst the Diamonds likewise explode and trigger symbol-dropping actions.
he Coal to Diamond Transformation is applicable only during base game spins. In the free round, all Diamond Totems land outright as such.
Giovanni's Gems Online Slot: Free Games
Giovanni images do not need to combine as a cluster in order to take effect as winning symbols. Three or more Giovanni elements simultaneously positioned in any column or layer, award coin credits ranging from 3 up to 300. Yet five or more Giovanni icons bring better results, as 7 up to 50 Free-Spins will also be awarded to comprise a round of Free Games.
During any number of bonus spins played, the Giovanni image will not appear across the reels. This means the Bonus Round cannot be set off anew.
Here, the special-paying Diamond Symbols emerge as easy reel elements. Any number of Diamond Symbols scattered across the game board, sans the need to form a cluster, awards Scatter Pays accordingly.