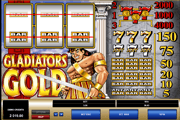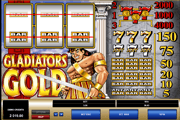 Gladiators Gold : A 3-reel 3-Row Microgaming Classic Slot
Gladiators Gold is a classic Microgaming slot with only three reels, three rows, and the number seven (7) and BAR symbols in play. This type of slot may be plain and decidedly basic for modern day slot players. Yet the very simplicity of a classic slot format makes this type of game still popular in casinos and other gambling venues.
For some casual gamblers the 3-reel Vegas-style classics are worth their weight in gold so to speak, because those games offer uncomplicated playing experience. A one-of-a-kind combination  is instantly recognizable as a win occurrence, as it usually happens only on a single straight payline and involves only a few symbols. Determining the amount won presents no difficulty either, since the paytable is readily available right next to the reels and without much ornamentation.
The only drawback to this classic slot is the lack of Free Spin Games or Bonus Games that offer guaranteed extra wins, big or small. Still, for those who prefer to win monetary rewards with a slot that has easy to understand game mechanics and not-so-complicated payline combinations, Gladiators Gold is a worthwhile game.
The Gladiators Gold Slot Symbols and Payline Combinations
This Microgaming slot is traditional in every sense, since a player wins with simple combinations of the BAR signage and the lucky number 7. The winning BAR combinations could come in the form of a Triple BAR, a Double BAR, a Single BAR reel icon, or any combination of those three. The Symbol 7 on the other hand varies in color; in silver, gold, or red. Hitting three of a one-of-a-color 7 symbol completes a winning combination, to which a perfectly aligned Red 7 has the highest equivalent pay of 4,000 coins.
A combination, however, must be well aligned when landing on a payline to be considered as a win. Except for the Red 7 symbol, because the game pays up to 2,000 coins even if only two Red 7 symbols are well aligned, while one Red 7 is a bit off the payline. In the same way that the game pays 1,000 coins if only one Red 7 Symbol lies exactly on the payline, while the other two are a wee bit off the payline alignment.
Gladiators Gold Win Rewards
The equivalent coin rewards for the BAR symbols range from 5 to 50 coins, while the Symbol 7 coin prizes range from 75 to 4,000. Calculating a Gladiators Gold win is as simple as counting from one to three. Let us say three of the Triple Bar symbols landed on the center payline, a player can easily glean from the adjacent Paytable that the matched combo has an equivalent pay of 50 coins. Right on the screen itself, a player can instantly view the 50-coin prize registered as his or her WIN and easily check if the increment has been added to his or her play CREDITS