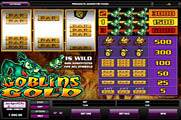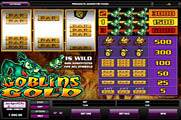 Goblin's Gold Free Slot Machine Review
Goblins are known for their love of gold, and come to think of it, who doesn't? So if you are looking forward to grab as much rewards as you can through a slot machine, then this Microgaming slot is the one for you. This game invites you to join a goblin throughout his adventures as he searches for gold. Players will be rewarded greatly for their help by getting to claim their own share of the gold.

A Classic Slot Machine
The game is a classic slot machine that offers players the traditional setup of classic gaming machines as it has three reels with 3 rows of symbols. The only different thing is that it offers them 3 paylines instead of one single middle payline, which is a good thing as it means more winning chances for the players.
In order for players to start the game and go on the adventure, they will have to determine how much in wagers they want to place on the slot machine. They can do that by going through the different betting options at the control panel. These options include the coin value and the number of coins that players want to place on the paylines. Players are always advised to place the biggest bet of three coins as it gives them the chance to activate the ultimate jackpot award of the game which is equal 6000 coins.
The symbols that will land on the game's reels include the green gold loving goblin, golden bar symbols, a bag filled with golden coins and golden lanterns. The paytable of the game is found on the right side and it contains all of the possible payouts and their respective symbols.
The highest paying symbol is the green goblin. It can give players 1500, 3000 and 6000 coins in rewards when three goblins land on the reels. It all depends on how many coins did players place in bets. The green goblin is also a special symbol as it acts as a wild icon that can replace any of the other icons on the reels of the game in order for players to have a better chance at forming a winning combo of 3 matching symbols on any of the three paylines of the slot machine.