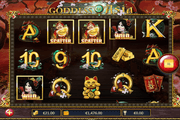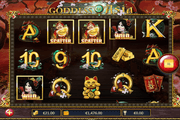 Goddess of Asia Online Slot: Goddess Drives Doubled Winnings to Reels
Goddess of Asia is a 30-payline online slot by Big Time Gaming deployed via the NYX/NextGen Gaming platform. This game features an Asian Goddess of Wilds that doubles the rewards of combos it helped organise as winning arrangement. Awesome even, are the Fan Symbols. They come with features that produce either a Wild Reel with Respin, or an instant cash bonus. Whichever transpires is a boon, because both features yield extra winnings.
The Fan Symbol though, delivers a different feature during bonus rounds; but still guaranteed to bring additional bonus rewards. Every Fan icon occurring as outcome of bonus spins is a collectable symbol. At the end of a free round, the accumulation of Fan images awards an Extra Bonus. The value of which will be based on the total number of Fans collected multiplied by the current Total Bet.
Look forward to meeting the Emperor, as his Golden Nugget offerings unlock the game's Bonus Round. This icon takes position only in Reels 2, 3 and 4, and will set off a free round if simultaneously occurring in all 3 designated reels.


Four (4) Asian good luck motifs can earn players high-value winnings. The array includes Red Envelopes, Dragon Mask, Gold Bars and the luck-bringing Waving Cat. The Red Envelopes are the most rewarding; to which 3, 4 or 5 of this element, correspondingly draws out 30, 60, or 150 win-credits.
Goddess of Asia Online Slot: Wild Symbol
Images of the Asian Goddess land on any reel as Wild Symbol with a 2x Win-Multiplier. That being the case, matched payline combinations of regular-paying icons garner doubled pays.
The next best thing about Goddess Wilds is that they can organise paying combinations of their own. In fact, it has the highest range of payouts; bestowing 10, 100 or 200 win-credits on 3, 4 or 5 Wilds composing a payline win. Presumably, the 2x Multiplier also applies, since the Goddess of Asia game info states that it applies to any payline win that includes Goddess Wilds.
Goddess of Asia Online Slot: Fan Symbol Bonus Feature
Fan Symbols landing on reels can stimulate spin sessions in both base and bonus game modes.
Base Game Fan Bonuses unlock if the Fan Symbol emerges in Reel 2 and/or Reel 3. When a Fan image is in any of those 2 Reels, it randomly chooses a number between 2 and 5.
The final number selected by a Reel 2 Fan Symbol represents a Total Bet Multiplier. The resulting product of the Multiplier and the current Total Bet will then be awarded as instant cash bonus.
On the other hand, the number yielded by a Fan icon in Reel 3, establishes the Reel position in which a full-reel Goddess Wild appears. Once the Wild Reel is in place, the non-Wild columns respin to generate new combinations at no extra cost.
Bonus Game Fan Symbols also deliver guaranteed wins but via a different approach.
Goddess of Asia Online Slot: Bonus Round
A round of free games commences with a Pick Game, as means of randomly determining the number of free-spins to award. Participating players choose 3 of the Red Cards presented as pick choices to reveal a number. After which, the sum of all 3 numbers revealed will represent the set of free-spins that will roll out as bonus round.
Here, Fan Symbols use a different approach in awarding an additional cash bonus.
Bonus Game Fan Symbols – are as equally potent as the base game Fan elements. During the round, every Fan emerging in any position is valuable, as it represents a 1x Multiplier Value. At the end of the bonus game, an Extra Cash Bonus will be awarded. The amount will be based on the total number of 1x Multiplier accumulated via Fan icons, applied as multiples of the current Total Bet.
Once all free-spins have rolled, all payline winnings plus the Fan Symbol Bonus will be awarded.