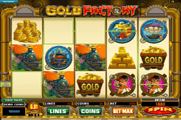 Gold Factory Free Slots Game Review
Gold Factory is a fifty payline video slot machine that boasts 5 spinning reels. This game is powered by Microgaming and it is themed around gold, hence the naming of the game, Gold Factory. This is why players will enjoy a very gold dominated video slot machine. This includes the symbols, the design, the layout and the bonus rounds. The symbols appearing on the video slot's reels include the gold train, a wooden cart filled with gold, golden coins, golden bars, a golden submarine, the gold mine rich owner and the golden factory itself.
Players can place the wagers at the bottom betting area where players will pick a coin size, a number of coins and the number of paylines they want to place bets on. Since the game has 50 paylines and the smallest coin is equal 0.01, the wagering range of the game varies between 0.01 and 1000 coins per round.
Being a Microgaming game vouches for its wonderful in game features, special symbols and bonus rounds. The wild symbol is the gold factory logo of the game and it can substitute for any other symbol in order to help the player get better combination of symbols in order to claim a payout. The scatter symbol of the game is the golden coin and it gives great rewards. It will also trigger the Gold Factory Bonus round if a minimum of three golden coins appear on the reels. There are other bonus rounds such as the Reactor Bonus and the free spins round that can be very lucrative for lucky players.
here really isn't any better name for this slots game than Gold Factory. There are 5 reels, fifty paylines, jackpots and bonuses galore! This is easily one of the best slot games available today, and is one of the greatest that Microgaming has come out with in the past year. It has just about every bonus feature that you can think of, and there has been great attention placed on the details of this game.
This is a great 5 reel slots game, and can be played by anyone. The paytables and paylines can be very complex and hard to understand, so most people rely on the visual and auditory clues to see how much they have one. If you're really interested, they do have quite a detailed paytable that you can pull up and refer to at your leisure, but it's not necessary. There are so many different flashing things and bells and whistles noises, that you'll feel like you're the center of attention in a packed casino when you win!
The graphics are really great and fun. The animation is quirky, but not annoyingly so, and makes it more fun to play. This is especially true when the bonus games are activated. The only thing this game is really missing is a multiplier, but those tend to aggravate some people more than encourage them to play more, so no big loss there. Overall this is a fantastic addition to the Microgaming casinos, and I'm sure they'll gain more fans just from reading this!
Gold Factory Free Slots Edition
Gold Factory is a fun online slot with a little for anyone that loves the pursuit of gold, gold and more gold!