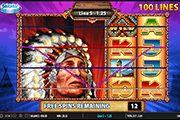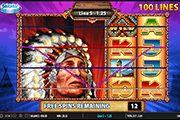 Golden Chief Online Slot: Extra Wild can Expand as Full Reel Wilds or as 3×3 Block of Wilds!
Golden Chief online slot is a Barcrest original carried by the SG Interactive gaming platform. The 3×5 grid contains 100 paylines in all, although not all paying lines are available when bets staked per spin are less than 1.00. Still even if the game runs on spins with lower stakes, additional paylines may activate at no extra costs. Such instances can be triggered by a Wild Symbol that expands into a full-reel Wild. The higher the amount of wager placed on the Wild-triggering spin, the greater the number of additional paylines activated.
The image of a Native American Chieftain represents the titular Golden Chief icon. It also poses as the Expanding Wild Symbol of this game. During base games, the Golden Chief simply expands to become a full-reel Wild. When playing with free-spins, the icon expands, and occurs as Heaped Wilds that cover a full 3×3 block of adjacent positions. Activating the free round requires landing on a winning Bonus Symbol combination that sets off the Golden Bonus Wheel.


Golden Chief Wild Symbols, Expanding Feature, Payline Activation and Random Mystery Symbol
A regular Wild Symbol comes into view as a Native American Beadwork labeled as Wild. Configured as Stacks of Wilds, a portion or the entire Wild Reel may come into view. Aside from having capability to represent any regular-paying icon, it can also form a winning Wild payline-combination. The Bead work Wild can combine with the Golden Chief Wild to complete a payline win. To which , three, four, or five Wilds, correspondingly reward players with a cash prize equivalent to x10, x100, or x500 the Line Bet.
Expanding Wild Feature – Any spin may land an image of the special Golden Chief Wild. Pay attention to this Extra Wild symbol as it expands into a full-reel Wild during base play, or a Colossal 3×3 image in the free games. Aside from furnishing players with more than one Extra Wild symbol, its occurrence also activates additional paylines at no extra cost. However, the number of additional paylines depend on the bet that triggered the Expanded Golden Chief Wild.
Expanding Wild Payline Additions:
• 1 up to 50 additional paylines if the Bet per spin is less than 1.00
• 1 up to 100 additional paylines if the Bet per spin is 1.00 or greater
Expanding Wild Random Mystery Symbol -This bonus feature may or may not occur during a Wild Expansion event. If it does, an arbitrary low-win symbol, occurring in multiples across the board, receives an upgrade. The upgrade transforms that particular low-win Mystery symbol into a higher paying image.
Golden Chief Online Slot: Bonus Wheel Feature
Three or four Golden Bonus icons activate the Golden Bonus Wheel. Once activated, the wheel spins automatically to determine which bonus game will set off. The number of Bonus Symbols activating the Bonus Wheel is significant, as it also determines the rewards in store in each bonus game.
Three Golden Bonus Symbols: sets off either the Cash Canyon, the Totem Riches, or the Free-Spins Round.
Four Golden Bonus Symbols activate either the Super Cash Canyon, the Super Totem Riches, or the Super Free-Spins Round.
Five Golden Bonus Symbols do not activate the Bonus Wheel. In its stead, an instant cash prize will be awarded outright. If the five symbols where generated by a less than 1.00 Bet or by a Big Bet, a 500.00 Cash Prize will be bestowed. On the other hand, achieving the same feat with a 1.00 or greater Bet, brings a higher reward of 250x the Total Bet.
Golden Chief Online Slot: Bonus Games
Cash Canyon is a trail game in which collecting instant cash rewards continues until a player reaches the final point, or until a Collect prompt, instead of a Multiplier, is revealed.
Super Cash Canyon is basically, the same as the regular Cash Canyon but with higher Multiplier values.
Totem Riches is a Ladder Game that entails clicking on totems up to the top of the pole in order to collect more, and higher cash rewards. Not unless a Totem displays a Collect prompt, as this ends the bonus game.
Super Totem Riches is similar to the non-super Totem Riches but with higher Multiplier values. Moreover, one of the totems may reveal an Extra Life.
Free-Spins Round awards 5 bonus spins that player may opt to use as stake in a gamble game rather than play outright. Gambling the bet-free spins could increase the number of free games up to 30. However, a player also stands to lose all, if the gambled results go south.
Super Free-Spins Round grants 10 bonus spins initially, and with same gamble options as the non-super round.
In any type of Free Games, every Golden Bonus Symbol that comes into view awards one or more additional free-spins.