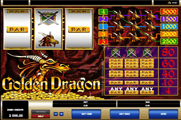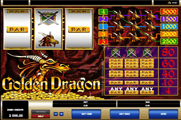 Golden Dragon Free Slots Review
Golden Dragon might be a great name for a chinese take-out place, but we think it makes an even better name for a Chinese themed slot game. Golden Dragon is a smaller, 3 reeled slot with a measly 5 pay lines, but there are still great jackpots to be won. Microgaming really put a lot of focus on how well the game was made, and paid attention to details on the graphics and color scheme, and it really made for a great looking slots.
Golden Dragon is a 3 reeled classic slot machine that has a lot to offer to players, starting from a nostalgic ride that has a traditional format, to a fun filled and a lucrative gaming adventure. The game takes players to the Far East where they can get to claim their own share of the golden fortunes of the dragons. Players will do that as they place their bets on the 5 lines of the game. They can do that as they go through the betting options under the reels. Players will then spin the reels in order to get three matching icons on any of the lines of the game. The different payouts that can be claimed during the game play are listed at all times on the right side of the game at the paytable. The highest payout that players can claim is equal 5000 coins.
A lot of other companies will boast five reel games with an insane amount of paylines, but most of the times there is not a lot of detail. Instead, there are a lot of bright flashing colors and annoying sounds that tend to trick you into thinking you're winning big, when you are really losing money. Three reel slots make you pay more attention to your bets, and have you figure out the betting strategy.


The symbols used are very simple. You have one BAR, two BARs and three BARs, as well as a shield, and of course the Golden Dragon, which also acts as a wild symbol. Get any 3 BAR symbols, win something. Get any 3 matching BAR symbols, win more. Get any 3 shields, win the most. Even figuring out where the paylines are isn't hard; they are all three vertical lines, and diagonal from top left to bottom right, and top right to bottom left. One quick look at the screen will let you know when you win!