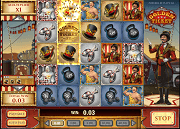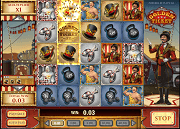 When you're ready to win some money, go for the Golden Ticket Online Slots. The game Golden Ticket is a circus themed game, and the game is lots of fun, and it has a bonus feature as well. When the game starts, there is a circus visible in the background, as well as carnival rides.
This game has a bonus, and the only way to achieve the bonus, is when the word is spelled out on a specific reel. The letters have to be spelled in the correct order, from top to bottom. It's also possible to get the word "bonus" spelled out in more than one column.
Golden Ticket Online Slots is a five reel game, and it contains no pay lines. The minimum bet amount is $.20, and the player can bet all the way up to $40. There is also an auto-play feature in the game, allowing the player to set up the game, in order to have it play for them. While at the reels, the player will hear lots of noise in the background, which is not music, but it sounds like a circus being conducted. A circus trainer can be seen on the right-hand side of the screen, presenting the reels to the player. All the symbols in the game are themed around the circus.
The symbols include, a strong man, a clown, a hat with a whip, 500 pound dumbbells, as well as other symbols. The highest paying symbol is the clown, or the strong man, which will pay out the highest amount if five of the symbols are received. The golden ticket can substitute for any symbol within the game, similar to a wild. Receiving five of the golden tickets, can give the player 100 coins. In order for a player to win, at least three or more matching symbols must be in a row, whether it's vertically or horizontally. If a Golden ticket is received, it can help to complete a winning combination.