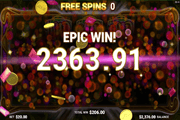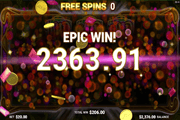 Goldwyn's Fairies Online Slot: Experience the Thrills of Striking Epic Re-Spins and Free-Spins Bonus Wins!
Goldwyn's Fairies online slot could very well become a popular online gambling choice as it could bring that rare experience of landing on reel outcomes that contain Wild Symbols in abundance. Created by Just for the Win for the Microgaming online gaming network, this game possesses two (2) special Wild Symbols that have the power to generate Wilds in numbers one could only imagine.
Goldwyn's Fairies slot awards Total Bet multipliers for the longest of a 3, 4, or 5-of-a-kind-win that meets the standard icon-matching rules and occurring on any of 20 paylines. Some may think that with that kind of rewards system, striking wins via matched groupings would be hard to come by. On the contrary, this game has three (3) types of Wild Symbols all capable of representing any regular-paying symbol to fulfill the completion of a payline win. Two of those Wilds are special as they have a Returning Wild attribute that tends to create more Wild Symbols.


Goldwyn's Fairies Online Slot: Wild Symbols
The first kind is the Classic Wild, which is a straightforward WILD-labeled icon. It appears in any reel or takes position in any payline to perform substitution actions.
When three, four or five Classic Wild icons land as matched symbols in a pattern conforming to a pay diagram, Total Bet Multipliers of 3x, 8x, or 25x will be awarded on the longest combo. Aiming to land on this highest paying Wild Symbol arrangement is not farfetched, because additional Classic Wilds tend to appear after a Re-Spin Feature or Free-Spin Round.
The Re-Spin Wild and the Free-Spins Wild Symbols make such instances possible, as both icons have a Returning Wild feature that makes their emergence very potent.
The Returning Wild Feature is simply a halo-like impression that marks every position taken up by a Re-Spin Wild or a Free-Spin Wild. In a succeeding re-spin or free-spin, the Returning Wild Mark remains visible until the Final Re-Spin or Final Free-Spin. If more Re-spin or Free-Spin Wilds occur, more reel positions will be marked with the Returning Wild halo.
In the event, a Re-Spin or a Free-Spin Wild lands on a marked position, another Re-Spin or Free-Spin Wild will appear and take a random spot not occupied by a Re-Spin or Free-Spin Wild.
The Re-Spin Wild – is more than just a substitute icon, because it can cause the reels to launch a bet-free turn whenever it emerges anywhere in Reel 3. The free turn continues if more Re-Spins Wilds concur as outcomes. Once a Re-spin outcome no longer includes a Re-Spin Wild, the feature concludes with a Final Re-Spin. This is the instance when all reel positions marked with the Returning Wild Halo will transform into Classic Wilds, filling up the reels with an abundance of substitute symbols for the Final Re-Spin.
The Free-Spins Wild appears as featured Wild icon of the Bonus Game round. Similar to the Re-Spin Wild, the Returning Wild halo marks every tile it occupied during an ongoing bonus round. After all bonus spins have been played, a Final Free-Spin is still in the offing. Again, all positions shrouded with the Returning Wild Halo will become Classic Wilds as outcomes of the Final Free-Spin.
Goldwyn's Fairies Online Slot: Free Games
The Goldwyn's Fairies Game Logo is the Bonus Game Symbol. Emerging only in Reels 1, 3, and 5, Goldwyn's Fairies icons appearing simultaneously in all three designated reels, trigger 10 Free-Spins. In light of the Free-Spins Wild with the Returning Wild Feature, the free games culminate with an extra Final Free-Spin in which all marked positions will transform into Classic Wilds.