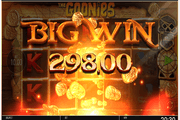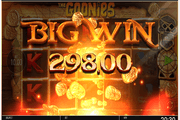 The Goonies Never Say Die Slot : Multiple Random Modifiers plus 6 Different Bonus Features to Trigger via Bonus Wheel
The Goonies Never Say Die is a Blueprint Gaming online slot adaptation of "The Goonies" comedy movie released in 1985 by Warner Bros. Touted as a "cult classic," the film received recognition from the Library of Congress, as having aesthetic, cultural and historical values; making it worthy for preservation in the U.S. National Film Registry. Dedicated followers of the movie, who are likewise avid slot players, will likely be delighted with Blueprint's use of the film's characters and main features.
Goonies Mikey, Data, Mouth, and Chunk, as well as the Fratelli family, appear to bring on modifying features. The main bonus event centers on One-Eyed Willy's Treasure, which awards a Total Bet Multiplier of up to 1000x. Actually, there are 5 other types of Bonus Games that may trigger as Bonus Wheel prize. All of which are certain to bring bonus wins!
The Goonies Never Say Die : Wild Symbols
Aside from a Regular Wild Symbol represented by a Medallion, other Wild icons may emerge: either as win-boosting elements of a related reel modifier, or of a Free-Spins Round. As regular substitute icon, a Medallion Wild can represent other reel elements; except the One-Eyed Willy Skull representing the Bonus Symbol.
Medallion Wilds and the Skull & Crossbones icons share the same highest payout values. That is, if their respective images converge accordingly in any of the 20 paying lines. An alignment of 2, 3, 4 or 5 Medallion Wilds or Skull & Crossbones, respectively doles out 2, 40, 100 0r 500 win credits on the longest single-type combo occurring as payline win.


The Goonies Never Say Die : Random Reel-Modifying Features
Occasionally during any spin, Chunk's image may emerge to signal the advent of one of the following Reel Modifiers:
Truffle Shuffle Wilds – Chunk's memorable Truffle Shuffle performance yields Truffle Shuffle Wild Overlays that will replace random symbols.
Mikey's Hidden Treasure – While Mikey looks for treasures, large chained stones drop, covering one or more random reels. Once all reels have settled, one or more chained stones will reveal full images of Mikey, posing as Stacked Wilds.
Data's Colossal Symbols emerge as a 3×3 block of image in Reels 1, 2 and 3.
Mouth's Lucky Coins – pertain to Mystery Symbols. A Gold Coin randomly selects a reel element to reveal as Mystery Symbol. Gold Coins landing on reels as spin outcomes will thereafter, reveal the selected symbol as replacements.
Sloth's Win Spin – Similar to his role in The Goonies movie, Sloth appears to extend a helping hand. Through Sloth's intervention, the ongoing spin will produce outcomes certain to yield a big win
One-Eyed Willy's Bonus Boost -This feature modifies a spin outcome by adding One-Eyed Willy Bonus Symbols. The result may or may not give players a chance to access the One-Eyed-Willy Treasure Feature that awards a Total Bet Multiplier.
Second-Chance Win may be awarded after a losing spin. A Scythe emerges to rearrange the non-winning outcomes; or a grotto caves-in to give way to new elements that will produce at least one winning payline combo.
The Goonies Never Say Die : Bonus Game Wheel
A minimum of three (3) One-Eyed Willy Skull Bonus Symbols scattered anywhere, unlocks the Bonus Game Wheel. A spin that lands on any of the following Bonus Game Titles, sets off the related bonus feature:
Fratelli Hideout Bonus – A pick and click game that awards either an instant cash prize or a chance to activate another Bonus Feature.
Skeleton Organ Bonus – Another pick and click game that awards a cash bonus but comes with extra feature that give players a chance to upgrade cash prize values; as well as unlock another bonus game.
Super Sloth Free-Spins
A bonus round rolls out free-spins in a grid in which Sloth appears as Wild. Super Sloth Wilds can convert a Fratelli family member into a high-paying symbol. This bonus feature also comes with a segment that gives players a chance to win Extra Free-Spins or to unlock the One-Eyed-Willy's Treasure Bonus.
Goonies Go Wild
Another Free-Spins bout in which a Goonie character emerging at the top reel, becomes a Wild Symbol. At the end of the free round, a Copper Doubloon may reveal a Collect prompt, award Extra Free-Spins in which all Goonies will turn Wild, or a chance to unlock One-Eyed-Willy's Treasure Bonus.
Inferno Free-Spins
A Bonus Round in which the Pirate Ship Inferno moves across the grid to transform 1 up to 3 adjacent columns into Wild Reels. This bonus round also culminates by giving players a chance to collect Extra Free-Spins or unlock One-Eyed-Willy's Treasure Bonus.
One-Eyed-Willy's Treasure Bonus
An array of Values spin, which players can collect in order to increase the Total Bet Multiplier Reward. However, if a booby trap sets off and tips the scale, the event ends the bonus game; likewise ending players' chances of collecting the ultimate prize of 1000x the Total Bet. Still, the sum of all Multiplier Values won, determines the equivalent cash bonus awarded for playing this feature.