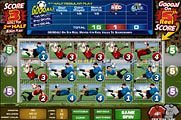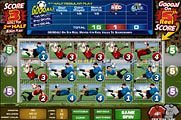 Goooal Slots Games
Goooal the game is a gift to all of the soccer fans who enjoy watching two teams trying to score goals. This game is themed around a match between two teams, the Red Team and the Blue Team. The theme of the game is not only apparent in the visuals or the symbols, as the game itself resembles a soccer match. This is why players at the beginning, after they choose a coin value, will be prompted to choose which team they want to support by clicking on their respective shirt color. After players do that, they will see a goal in which the 5 reels and the 3 lines of the game are located. All of these symbols include different players in different positions from the two teams trying to score a goal. Players will also see a score table that is found at the top of the screen.

Goooal Slots Games Betting Options
There are two betting options available. The first one is the coin value that players will pick when they started the game. The second option is the number of paylines as players can click on the paylines they wish to activate or click on Bet Three so they can place bets on the three paylines that are there. Even the spinning of the reels is unique as each reel appears separately and spins until it reaches its final symbols, then the following reels will appear and so on until they form the 3 rows of symbols and the 5 reels of the game.
Each team has 4 players and they are distinguished by the number under each one. They appear in the form of symbols on the reels and the lines of the video slot machine. Players will earn great payouts when they get at least three consecutive matching player symbols on the lines of the game. Player number 5 is the highest paying player as it can award players up to 5000 coins whenever they get 5 symbols on one of the lines of the game.
The Goooal symbol is the wild icon that has the ability to complete any winning combo by substituting for any of the other symbols. This is why players will also scream joy when they see the symbol Goooal appear in the reels just like real matches. The game also comes with pretty unique bonus rounds such as the 2nd half  bonus Play feature that is activated when players score Goooal three times. There are other bonus rounds that are activated in a similar way and gives players access to high paying bonus rounds and features.
In short, if you are a soccer fan who is looking for the ultimate soccer themed gambling experience, then this Novomatic powered video slot machine is exactly what you are looking for.