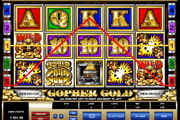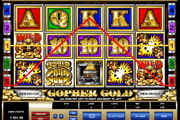 Gopher Gold a Fast-Paced 5-Payline Video Slot from Microgaming
Gopher Gold is a five-reel, five-payline video slot depicting a gold-mining adventure inside a gopher-made cavern. Apparently, the tawny burrowing rodent featured in this video slot has created a tunnel network, which allowed somebody to set up a gold quarry complete with rails and mine carts. Since this is a gopher-inspired gold mining adventure, players setting off in a gold mining expedition via this video slot could receive hefty coin rewards for all matched symbols produced by reel spinning actions.
Compared to other Microgaming video slots, this game does not have the same reward-boosting Scatter Pays, Free Spins, and Bonus Wins features that could easily attract most slot players. The game though has its own plus points, albeit not immediately evident. A closer look and in comparison to other video slots, Gopher Gold has its own positive attributes.
Pay Both Ways Payout Rule
This Microgaming video slot offers a fast-paced slot gaming experience of achieving matched combinations that pay both ways. In a typical slot game, rewards are paid only if the combination created starts from leftmost or the first reel. In this game, a player also receives coin rewards for matched combos that start from the rightmost or the fifth reel.
In the event that there are two possible symbol combinations occurring in a single payline, the game pays only for the payline combo with the higher prize equivalent. It is a Gopher Gold payout rule present in other slot games as well.
Higher Coin Rewards of Both High-Paying and Ordinary Symbols
Another plus point about this game is the considerable number of coins that players can win for every set of three or more one-of-a-kind high-paying symbols. The Gopher Gold Logo for one offers 12,000 coins for a set of five identical symbols that land on any of five active paylines. Landing on four-of-a-kind is still a great spin outcome with its 1,000-coin prize equivalent. Winning 40 coins for landing on three-of-a-kind Gopher Gold Logos is not bad either.
Other high-paying icons include the Blasting Dynamites, the Mining Tools, the Mine Cart, and the Oil Lamp. The coin rewards awarded by those symbols for five-of-a-kind combos on enabled paylines are 5,000, 2,000, 1,000, and 600, respectively. Such prizes are substantial if one is to compare the numbers against the high-paying symbols of other typical video slot games.
Actually, even the game's ordinary symbols represented by the A, K, Q, J and 10 icons, offer significant coin prizes of 500, 400, 200, 150 and 100 respectively. Those are paytable equivalents nearly similar to the coin prizes offered by high-paying symbols of other multi-payline video slots.
The Gopher Gold Wild Symbol
An important game symbol is the Wild because it increases a player's chances of forming one-of-a-kind combinations on active paylines. Since there are no Scatter or Free Spin symbols in play, and that it does not form its own payline combination, the Gopher Gold Wild can be used as substitute for ALL symbols.