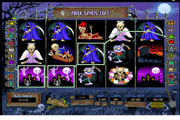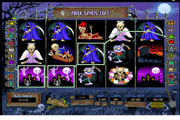 Grave Grabbers Online Slot: Grave-Digging Bonus Game and Free Games w/ up to 10x Multiplier
Grave Grabbers online slot by Pragmatic Play is a Halloween-themed betting entertainment featuring two (2) Bonus Games. One is an entertaining grave-digging bonus game that is guaranteed to bring surefire wins, while the other is a round of free games with a bonus-win multiplier.
Built with 20 pay diagrams, of which some can be deactivated according to order of line configuration. After every spin, funny, rather than spooky reel elements could occur as matched groupings in activated paylines. The tile that brings the most advantageous win is the Haunted-Houses icon, being the Wild card that could complete or lengthen winning combination/s.


Grave Grabbers Online Slot: Wild Symbol
Aside from having substitution functionality, the Haunted Houses Wild can complete a winning combination. Whenever two, three, four, or five line up consecutively and in conformity with a win pattern, coin credits of 20, 200, 2000, or 5000 coins will be awarded. However, only the longest combination occurring in a played line, earns the corresponding reward.
The Haunted Houses Wild substitutes for regular paying symbols only. The images of a Grave Digger and that of a Gravestone are excluded. They are special reel elements that trigger a Bonus Game, once they land as winning combinations.
Grave Grabbers Online Slot: Grave Digger Bonus Game
Three Grave Digger icons emerging in an active pay line is enough to activate the Grave Digger Bonus Game. The segment comprises three stages, in which players need only to click on objects to unravel prizes.
Stage1 – Here, players choose from a number of cemetery tombstones in order to get hold of a key. This stage brings surefire wins as all tombstones in view unravel coin rewards. Revealing The Key is important because it unlocks one of three Mausoleums presented in Stage 2.
Stage 2 – One of three Mausoleums displayed by the game board contains a Game Over message. The other two will reveal coin prizes, whilst permitting entry to Stage 3. Players therefore must select a Mausoleum with care, in order to reach the final stage.
Stage 3 – Inside the Mausoleum are five flagstones that could lead to the Top Prize. However, only one flagstone will unravel the treasure chest that contains coin rewards. The rest are openings that lead to a bottomless pit.
After completing all three stages, the sum of all coin rewards unraveled will be awarded. The Total Bet that triggered this Bonus Game multiplies the coin credits earned.
Grave Grabbers Online Slot: Free Games
Tombstone totems occurring in groups of 3, 4, or 5, regardless of row or reel position, activate the Free-Games. Twelve (12) Bonus-Spins will be in play, while a corollary Bonus-Win Multiplier of 3x, 5x, or 10x is awarded based on the number of Tombstone images that activated the round.
In the event that another Tombstone trigger combination occurs as outcome of a bonus spin, a fresh supply of 12 free-spins will be added to the round. Triggering the Grave Digger Bonus Game is also possible during the free games.