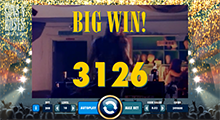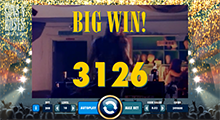 Guns N' Roses Online Slot with Astounding Wild Symbols and Rewarding Bonus Games
Guns N' Roses is a 5-reel, 20-payline online slot immortalising the American hard-rock band best remembered for the 1987 hit album "Appetite for Destruction."
GNR fans who are avid slot players as well, are in for a grand time with NetEnt's Guns N' Roses-themed online slot. While engaged in slot play, they can listen to a set list of GNR's five popular tracks, including the hit single Sweet Child of Mine. Players have the option to play all tracks continuously by selecting Loop All, or select the Loop option to play a particular track repeatedly during slot spinning sessions.



Actual footages of Guns N' Roses Live Concerts appear not only as backdrop for the slot framework, but also as Big Win fanfare. This online slot by NetEnt offers Re-Spins, Win Multipliers of up to 10x, a variety of Wilds that appear in random profusion, and two exciting Bonus Games.
The Guns N' Roses Logo is the Wild Symbol that tends to expand as a full-reel WILD Symbol in any reel.
Guns N' Roses Online Slot Special Base Game Features
Legend Spins – Legend Spins are re-spins activated arbitrarily, occurring as a set of three bet-free spins. The first Legend Spin produces a full-reel image of a GNR band member in Reel 3, posing as a Stacked Wild Symbol. The second Legend Spin produces the same band member icon as additional Stacked Wild in Reel 5, whilst retaining the Reel 3 Legend Stacked Wild in place.
The final Legend Spin produces the same GNR band member as Legend Stacked Wilds, but this time in Reels 2 and 4 only, replacing the previous Legend Stacked Wilds in Reels 3 and 5. The Expanding GNR Wild Symbol may appear as additional Wild symbols during Legend Spins.
Appetite for Destruction (AD) Wild Symbol – The AD Wild comes in the form of Cross-Shaped Wild Symbol Overlay comprising images of four Guns N' Roses band members. The AD Wild overlay can appear across the reels in its full cross-shape form or partially. If a Guns N' Roses Wild Symbol emerges in the same reel beneath an occurring AD Wild Overlay, that particular Wild Symbol will not expand.
The Solo Multiplier Feature – This is another randomly occurring base game win-boosting feature. A Multiplier Overlay Frame appears on Reel 4 to award a win multiplier factor, anywhere between x4 and x10. The Mulitplier though is applicable only to a designated reel icon. In determining the symbol to which the Solo Multiplier will apply, the symbol must land in the same position as the Overlay Frame.
Guns N' Roses Online Slot Multi Award Bonus Wheel Feature
The Album Record marked Bonus Symbol appears on Reels 1, 3 and/or 5. A trio of those symbols appearing simultaneously in the said reels triggers the Bonus Wheel that awards any of the following Bonus Prizes:
The Encore Free Spins – This Bonus Wheel prize awards 10 free spins. During each bet-free spin, a GNR Band Member will appear as Overlay Stacked Wild on Reels 2, 3 or 4. The free round however, cannot be retriggered.
The Crowd Pleaser Pick and Click Bonus Game. This Bonus Wheel prize comprises three (3) Pick and Click game levels with increasing ranges of coin prizes. In order to bring the game to the next level, the sum of the coin rewards unraveled in the current level must meet a specific number of coins. If the bonus player unravels Free Spin prizes, the bonus spins collected in all game levels will be played after the Pick and Click Bonus Game.
Coin Wins – The Bonus Wheel also awards Coin Wins as alternative prizes on which the wheel pointer could land. Bonus Wheel players instantly receive a Coin Win. The amount of which can be anywhere from 200 minimum, up to a maximum of 600 coins, multiplied by the coin level in play at the time the Bonus Wheel was triggered.