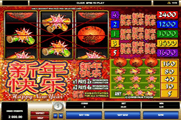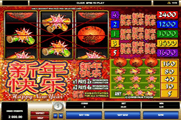 Happy New Year! No, I'm not confused as to what month it is, I've just come from playing the Happy New Year video slot from Microgaming. It's probably not even the New Year you're thinking of. This isn't the New Year that falls on 31 December of every year, but rather the Chinese New Year. There are still plenty of colorful firecracker graphics, as well as lanterns and the Chinese characters for Happy New Year.
There are only three reels on this video slot, but the five pay lines give way to more chances of winning each spin that you make. Winning is typical of any 3 reel slot; the more of the same symbol you get, the more you win that round. This game also has wild symbols (Chinese characters for Happy New Year) as well as multipliers. Landing on a multiplier is almost a surefire way to win a good amount of money, and the anticipation of watching the amount go up, up, up is always a favorite part of the game.
The symbols that are going to be appearing across the reels and the lines of this slot machine include explosive Chinese firecrackers, Asian paper lanterns and explosives. Although the symbols come in basic visuals, and they are not as refined as 3D video slot machines, but they manage to get the point through and they manage to create a pretty exciting and a fun gaming experience.


The bright reds and golds that make up the graphics give a very rich feel to the game. Red, of course, is the good luck color in the Chinese culture, so it's only natural that it's used in such high quantities for this game. There is about a 96% payout percentage for this game, and it might be because of all the luck given off by the graphics, but you'll never truly know until you give it a try for yourself!
Get ready to celebrate the Chinese New Year with this amazing 3 reeled classic slot machine by Microgaming. Although the game has a classic and a traditional format, its theme is advanced and it hosts a variety of icons that can give players plenty of rewards, as per the paytable that can be seen at the right side of the slot game. Play this traditional game here for free before paying a visit to any Microgaming casino to play the slot with real cash.