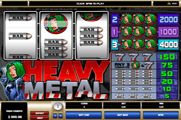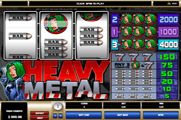 Heavy Metal may seem like the perfect name for a rock music themed video slot, but this one is more a futuristic assassin one by Microgaming. You won't find any symbols from decks of cards or cherries on these reels. Instead there are several different combinations of bullets, instead of Bar symbols, 7's (you really can't find a three reeled slot without these!) and the green haired woman that is the icon of this game. The game has a classic format with a traditional setup that has a total of 3 reels with the same number in lines. Across these lines, players will have to get 3 matching symbols acorss these lines in order to claim a payout.
The best thing about 3 reeled classic games is that the paytable of the game is always showing through the game play, as it is found on the right side of the reels. Players will see all of the different symbols that will land across the reels and the different payouts that they can claim with the help of these symbols. The biggest payout that players can earn is the jackpot, which is equal 4000 coins. It is given to players who have placed the max bet of 3 coins and got 3x green haired woman on the same payline. This is why players should always place the max bet.
Another thing you won't find on this game is any sort of wilds, scatters, multipliers or even free spins. This is a basic three reel slot with one added feature-there are 3 paylines instead of just one like we've been seeing with games that have no bonus features. This actually makes playing the max bet a little more expensive than with some others: a whopping $15 per spin. It's really not that much, and when you hit something on one of the paylines (which is pretty inevitable) you'll win lots more money than you originally anticipated.

Three reel slots are generally popular with people wanting to stay away from all the bells, whistles, and pay charts that come with the five reel, multi payline games. You tend to be able to play a lot longer on these too, especially when you're just playing on one pay line since it costs so little each spin. This theme was a nice change from the more classic graphic style, and the sound effects were very easy to keep up with and really helped deliver a good playing experience.