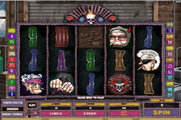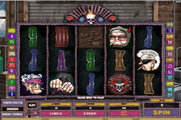 Hell's Grannies Free Slot Machine
Hell's Grannies is a slot machine that throws the idea of the sweet and adorable little old lady right out the window. This hilarious look at the darker side of some grannies, is outrageous enough to make even the hardest of bikers smile. Offering great bonuses and rewards to their players, this game will keep visitors of all ages thinking of their own precious gram-grams while racking up the winnings.
Graphics and Sound
The theme of this slot game is outlandish and hilarious. The thought of a precious old lady sporting a mohawk and biker gear is almost too much. This free slots game has incredibly sharp graphics that depict sweet little old ladies sporting piercings and tattoos. There is a touch of softness in these grannies as is evident by the yarn that adorns the sides of the playing screen as well as the knitting needles as the bones in the skull and crossbones icons. The sound of heavy metal music and motorcycles in the background make these grannies seem even more gritty.

Pay Lines and Reels
Much like the BINGO cards that they play on Thursday nights, these grannies offer the gamer five reels and 25 pay lines to maximize winnings.
Wagers and Payouts
Gamers can bet a maximum amount of 100 coins per spin on this free slots game. Betting the maximum amount will give the biggest return on the final winnings.
Bonuses
Jackpot
When five wild symbols are showing on the screen the player will be awarded the maximum jackpot when playing the maximum bet.
Free Spins
The free spin is activated during play if three or more scatters are landed on the reels in any position. This activates a bonus game in which the player can earn more cash and free spins.
Wild
When landing a "Knit Fast Die Warm" icon on the reels it will take over the board and complete all winning combinations but will not replace the scatter symbol.
Scatter
The Hells Grannies logo is the symbol that activates this bonus when it lands on the reels. When three or more of these symbols appear on the screen it triggers the start of a bonus round called "Spin It To Win It."
Bonus Games
This "Spin It To Win It" bonus will earn the player from five to 20 extra spins on the reels. The winning combinations during this bonus round are multiplied by 2x, 3x, 4x, or 5x. During these bonus spins, if the scatter symbol comes up three or more times creates the opportunity for another spin on the wheel.
When it comes to entertaining games, Hells Grannies has everything that a player is looking for. This slot game is full of fun and entertainment themed around the dark side of grandmas. This slot offers an entertaining experience that puts a twist on the image of the quiet and loving grandma, putting cash in your pocket and a smile on your face.