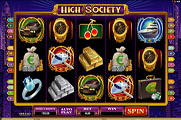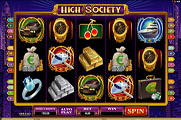 High Society Free Online Slots
When you think of riches, wealth and rewards, your mind will likely go to symbols like gold coins, platinum and gold bars, fat stacks of cash, luxury cars, personal jets, cash symbols and private yacht clubs. It was with these ideas that the High Society Slots game was created. A slots game where symbols of money, luxury and power can bring you incredible rewards and payouts. Each symbol brings in a satisfying payout, or can offer the player added extras, such as bonus games, a free spin and even more.

High Society Slots, a Microgaming powered virtual casino game, takes the player from their computer to the casinos in an entertaining flash. Players can enjoy the free slots game online, from the comfort of their own home, using practice credits to place their bets.
With 25 paylines, players can easily check their locations on the reels and their payline using the virtual paytable. From there, players can see the different rewarding payouts. Players will also be shown the different special symbols and any bonus games that are offered. All of the games 5 reels spin, to show a variety of symbols all reflecting the rich theme of the game. In an added twist, many symbols will offer the player special bonuses.
If players have the Euros "scatter" symbol come up three times, players will get to select one of two options for a free spin bonus game. In the thrilling "Super Wild Reels" players will get varying free spins depending on how many of the Euro symbols come up on the reels. Or should a player choose "Free Spins with a Super Multiplier Feature" players receive 10 free rounds with the use of a varying multiplier. The Euros scatter symbol itself offers great payout and various rewards, as well, should a player not have a full set of 3 during the game.
Should a player hit the jackpot with a 5 symbol "Private Yacht" reel, you can earn a stunning 5000 coins!
And if these rewards and payouts weren't already enough excitement, the added "High Society" logo icon acts a a "wild icon" that players can use to replace another icon on the game's lines to help improve your combo and help you receive a better payout. All in all, the game is so life-like and thrilling, you will likely find yourself asking "Am I really playing an online free slots game?"
With such entertainment and additional bonuses, generous payouts and surprising rewards, it's no wonder why the obvious choice for a free online slots game is the High Society Slots game from Microgaming. It's player-oriented gambling experience satisfies the gamer's desire for excitement, in an atmosphere that states wealth, money and success.
From the convenience of a computer screen, anyone, anywhere can live a life of luxury and play the exclusive High Society Slots online slot game. The game itself being easy to understand and easy to enjoy, it begs the question, who wouldn't want to be "High Society?"